Credit union – definition and meaning
A credit union is a type of cooperative 'run by its members for the members.' A credit union is a not-for-profit organization that people who have something in common form. For example, they may go to the same church, belong to the same trade union, club, industry, or locality.
To join a credit union, you must meet its eligibility criteria. In other words, you need to share the same common bond with the current members.
In many countries today, however, credit unions allow outsiders to apply for membership. People who do not have a common bond can also join.
Credit union – aims
Members democratically control their credit unions. It aims to promote thrift (savings) and provide credit at competitive rates. It also provides other financial services to its members.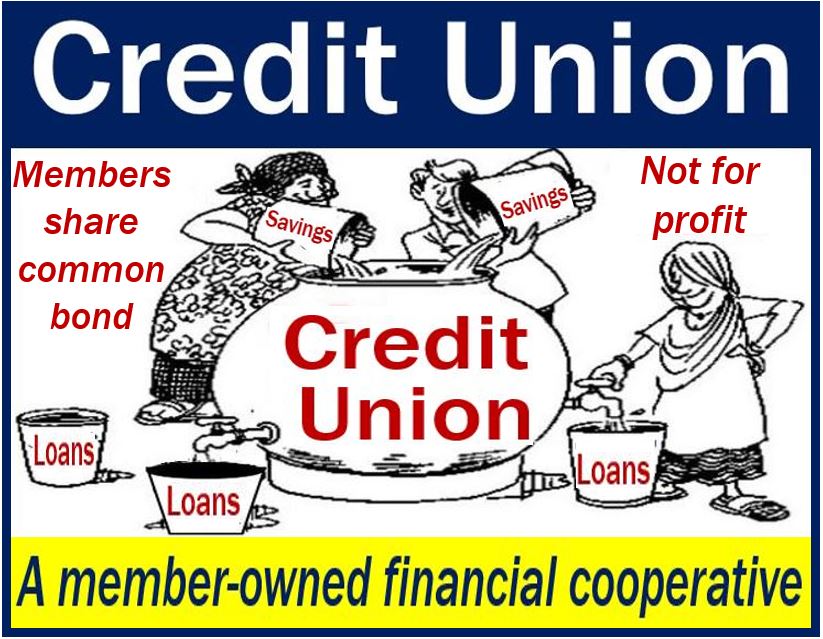 Some credit unions also provide services that support local community development. Additionally, they may support sustainable international development on a local level.
There are many types of credit unions across the world. Some institutions have just a few dozen members, while others are massive organizations worth billions of dollars. In fact, some credit unions have hundreds of thousands of members.
They exist alongside other cooperative or mutual organizations engaging in cooperative banking.
Credit union vs. other institutions
The main difference between banks, other financial institutions, and credit unions is the owner. In a credit union, the account holders are the owners. They choose their board of directors in a 1-person-1-vote system.
Each member's vote is the same, regardless of how much they have deposited.
Credit unions, unlike conventional banks, see themselves as community-oriented, not-for-profit organizations.
While offering similar services to mainstream banks, credit unions use different terminologies. They have draft accounts (checking accounts), share accounts (savings accounts), share term certificates (certificates of deposit, etc.
Surveys say there is a higher level of customer satisfaction with credit union services than those that banks provide.
They claim to provide a wider range of savings and loan products. They also claim to provide them at a much lower price than microfinance institutions do.
Credit union loans
Credit unions usually require that members have saved for a set period before becoming eligible to borrow money.
Their loans may range from very large ones to amounts more typically lent by a payday or doorstep lender.
In most countries, their interest rates are capped. They usually include life insurance. In other words, if the borrower dies, their insurance fully pays off the loan.
According to the World Council of Credit Unions:
"Credit unions pool their members' savings deposits and shares to finance their own loan portfolios rather than rely on outside capital. Members benefit from higher returns on savings, lower rates on loans and fewer fees on average."
Credit unions globally claim to offer members much more than just financial services. Members have the chance to be owners of a financial institution that helps create opportunities.
For example, they provide opportunities for growing farms, building family homes, educating children, and starting small businesses.
Video – the credit union and members
This World Council of Credit Unions video explains how new technologies are changing credit unions. They can now offer immediate and direct financial services to members who were unreachable before.
---