Helen Sharman, the first Briton in space, celebrated the 25th anniversary of the event this week at Imperial College London, where she now works as Operations Manager in the Department of Chemistry. She also celebrated at the Science Museum.
On 18th May 1991, Dr. Sharman, together with Russian cosmonauts Sergei Krikalev and Anatoly Artsebarsky lifted off for the Mir space station on the Soyuz TM-12 mission, which lasted eight days.
Dr. Sharman's tasks included agricultural and medical tests, photographing the British Isles, and taking part in an amateur radio hookup with British schoolchildren.
(Left) Helen Sharman in 1991. (Right) Dr. Sharman shaking hands with the same spacesuit she wore twenty-five years ago. (Images: Left – Science Museum. Right – Imperial College London)
Celebration with original crew members
The twenty-fifth anniversary was celebrated with her Russian colleagues as well as about a dozen astronauts. Earlier this week, on 18th May, she was reunited with the spacesuit she wore in 1991.
The suit is on display at the Science Museum in South Kensington, London, where it is usually behind a glass case. Dr. Sharman had to wear gloves when she touched the suit – in order to preserve it.
---
---
On 20th May, Dr. Sharman returned to the Science Museum to commemorate the day she and her crew members docked with Mir. Astronauts and cosmonauts generally celebrate 'docking day'.
Other European astronauts as well as her original Soviet crew from her missions joined her in the celebration. Sergei Krikalev holds the record for the second-longest time spent non-stop in space – 803 days.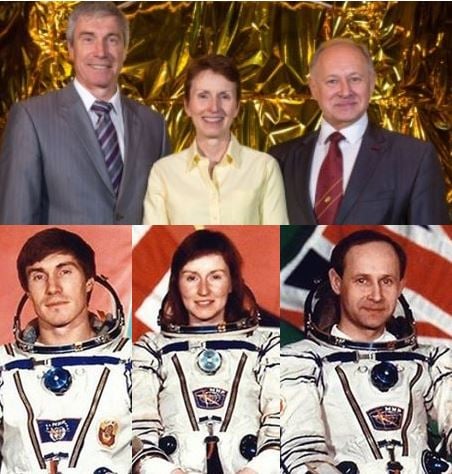 1991 and today. (Left) Sergei Krikalev, Helen Sharman and (Right) Anatoly Artsebarsky. (Images: Top – Imperial College London. Bottom – amsat-uk.org)
Krikalev was one of the people who helped train British astronaut Tim Peake, who is currently aboard the International Space Station.
The astronauts enjoyed a projection at Imperial's Data Science Institute, which took them on a quick simulated trip to Mars.
---
---
In a Science Museum blog, Dr. Sharman remembers the 1991 mission:
"From orbit, our planet is uncannily blue. You can't imagine how deep the colour is, and the scale and details that you can discern, from the sweep of a continent to the wake of a ship. At night, the lights of cities shine up to you and you can see the dance of the aurora."
"After eight days I returned to Earth with Viktor and Musa Manarov. Re-entry, at more than five times Earth's gravity (5.5 g), was much more dramatic than the launch, where we only experienced 3.5g."
"As we came through the atmosphere, I could see the ball of plasma around our descent module go orange and then yellow, before the windows were eventually blacked out by soot from the spacecraft. When the drogue chute pulled out the main parachute we jolted from side to side. I was shocked by the violence of the re-entry. After the retrorockets fired, we tumbled a few times before being left hanging inside, as the spacecraft came to a rest on its side."
British astronaut Major Tim Peake, who is currently aboard the international space station, congratulated Dr. Harman on the 25th anniversary. (Image: twitter.com/astro_timpeake)
Before Major Peake was launched to the International Space Station (ISS) last December, he asked Dr. Harman if there was anything she would like him to take. She gave him her copy of Road to the Stars by Yuri Gagarin, the first human ever to go into space.
She had taken Gagarin's book into orbit with her in 1991, so the current ISS crew could add their signatures alongside her Mir crew mates.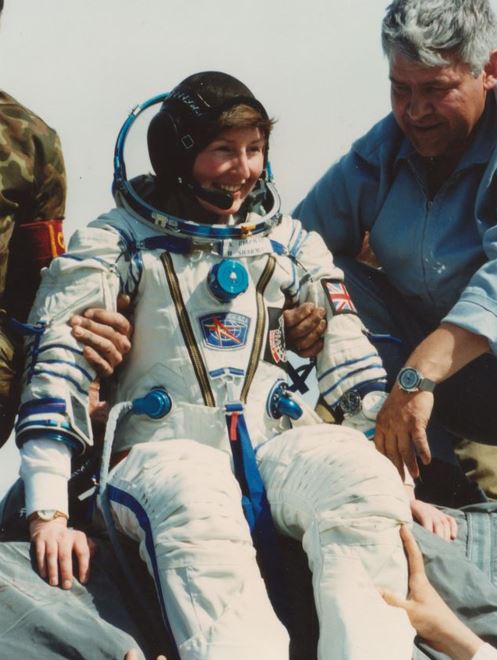 Helen Sharman safely back on Earth's surface after a successful mission. (Image: Science Museum)
During the celebration, Major Peake said to Dr. Sharman:
"It really is an historic day to celebrate from 25 years ago when you became the first British astronaut in space," he told Sharman and more than a dozen astronauts and cosmonauts assembled at Imperial College London. "As much as I would like to be there in person tonight and with everyone else celebrating, I'm actually rather glad I'm not."
"As so many of you will know, space is the best place you could possibly be. Finally, after 25 years since your mission, there is another Union flag being worn in space and I know that is something you have campaigned for long and hard, and for which I'm extremely grateful."
First Brit in space Helen Sharman snapped next to her space suit, which she was wearing 25 yrs ago today #Sharman25 pic.twitter.com/VyYQvq06c7

— Imperial College (@imperialcollege) 18 May 2016
Regarding the future of space travel, Dr. Harman said:
"We will have to work more closely together than ever before if we are to succeed in the next generation of space exploration. The next great objective is the one that Soviets dreamt about at the very start of human spaceflight with Gagarin's launch in 1961: Mars."
"Would I like to join them in a mission to the red planet? If I knew I could return, I would do it in an instant."
Video – Helen Sharman the first Briton in space
In May 1991, exactly twenty-five years ago, Helen Sharman became the first Briton in space.