A flying car is being developed by Cartivator Resource Management, a startup backed by Toyota Motor Corporation, the Japanese automotive manufacturing giant. Cartivator Resource Management (Cartivator) has developed a flying car test model that its engineers hope will eventually become a small car whose single driver will light the Olympic torch in the 2020 Tokyo games.
Cartivator researchers say their prototype is currently simply an arrangement of aluminum framing and eight propellers that just about becomes airborne, but for the moment crashes within a few seconds.
Tsubasa Nakamura, a Cartivator representative, wrote the following in the company's online news section today (June 3rd, 2017):
"From today we are starting a blog which keeps you all updated about the development of our flying car project. We will make an update every weekend, so please make sure to check it out regularly."
Cartivator engineers surrounded by members of the media getting ready for the test flight of the flying car prototype. (Image: cartivator.com)
According to Nakamura, more than 100 people have applied to join the Cartivator team. Ten new individuals and companies have come forward over the past month offering sponsorship.
Regarding the Toyota sponsorship, Nakamura wrote:
"I really appreciate Toyota group companies, and other companies or individuals supporting us so far. We are able to accelerate our development because of this support."
Toyota has so far invested ¥42.5 million ($384,000) in the startup to work on the flying car project, which is called Sky Drive. A startup is a young, innovative company that attacts large corporations, venture capitalists, and angel investors.
Flying car test flight
On Saturday, there was a test flight of the prototype in Aichi prefecture, Japan, where Cartivator is based.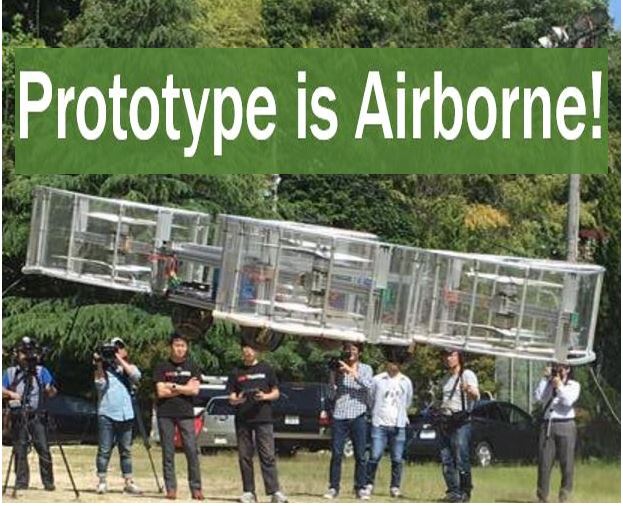 After flying up to eye level, the prototype hovered for a few seconds and then fell. Engineers were happy with its performance. It will be interesting to see what the flying car is like in 2020. (Image: cartivator.com)
The prototype – which engineers hope will one day become a flying car – was loaded with sensors and batteries and made lots of noise. It also blew up a great deal of sand. Cartivator engineers said they were pleased with the test flight.
It reached human eye level for a few seconds, then tilted and fell to the ground. Basketball-like cushions attached to its undercarriage served to break the fall.
According to an article written by Yuri Kageyama for the Associated Press and published in CTV News:
"After several attempts, the endeavor had to be cancelled after one of the covers got detached from the frame and broke, damaging the propellers."
Cartivator engineers involved in the project 'Sky Drive' expect one day to have a flying car like the one in the image above. According to Cartivator: "By 2050 we aim to create a world where anyone can fly in the sky anytime and anywhere." (Image: cartivator.com/skydrive)
Nakamura wrote:
"Currently, CARTIVATOR is developing a redesign of a prototype model which will be released this September. Due to this, flight evaluation is limited; however today we could showcase flight of our experimental model."
"I would like to thank all the media for travelling from afar to visit us. Please look forward to seeing us in the news in Japan and abroad."
Video – Flying car for 2020 Olympics
Toyota wants a flying car to light the Olympic torch in Tokyo. If all goes according to plan, Cartivator's vehicle may be the one to do it.