Ford profits fell 39% in the first quarter of 2014 after particularly weak sales in North America and increasing losses in South America. The company earned $989 million in Q1 2014 or 24 cents a share, compared to $1.61 billion or 40 cents a share in Q1 2013.
In 2013 the company made a profit of $1.4 billion, which was $765 million less than the year before with sales in North America falling by 3%.
Ford is the second largest vehicle maker in the US, after General Motors.
Complaints and recalls costing more
Ford placed $400 million towards its vehicle warranty fund to cover customer complaints, safety recalls and other issues. According to Bob Shanks, Chief Financial Officer, adding to such funds has become the norm as automobiles become more sophisticated.
In 2013, Ford recalled 1.2 million automobiles in the US, according to data from the National Highway Traffic Safety Administration, making it the fifth largest recaller of vehicles that year.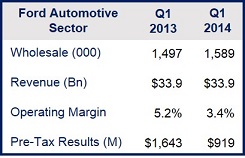 These factors reduced Q1 2014 profit by approximately $900 million, the equivalent of 17 cents per share. They also accounted for the year-on-year reduction in company pre-tax profits of $700 million.
Ford emphasized that it is highly unlikely that all the negative factors will coincide in future quarters.
Mixed results in different parts of the world
Asia Pacific, North America, and the Middle East & Africa were profitable. Middle East & Africa profits increased 15% to $54 million.
Europe's loss was reduced to $194 million compared to a $425 million loss the year before.
South America's losses increased compared to the previous year. Currency devaluations in Argentina and Venezuela made losses in the region increase to $510 million in 2013 compared to a $218 million loss in 2012.
Market share in Asia Pacific continued to grow and reached a record market share in China. Profits in Asia Pacific were $291 million in 2013 compared to a $28 million loss in 2012.
Wholesale volume in Q1 2014 was 6% higher and revenue was up by approximately 1% compared to Q1 2013.
Aggressive new product launch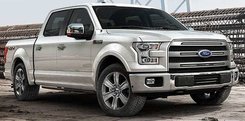 Ford's President and CEO Alan Mulally said:
"We had a solid quarter, and we are on track with our most aggressive product launch schedule in our history. Our One Ford plan continues to deliver as we serve customers in more markets around the world with a full family of vehicles committed to best-in-class quality, fuel efficiency, safety, smart design and value."
Ford is asking its shareholders for patience this year as it invests heavily in the launch of 23 new products, including the first pickup truck with an aluminum body. Mulally said "This year we will have the most product launches in our history."
Reuters quoted Stephen Brown, a Fitch Ratings analyst, who said "The company has a lot of new products coming online this year. They haven't seen the benefits (of the new vehicles) on dealer lots yet." Brown expects earnings to improve in the second half of the year.