The British economy is paying a heavy price for the recent freezing weather that struck most of the country. Economists are warning of a short-term hit to GDP growth. GDP stands for Gross Domestic Product. The 'Beast from the East' combined with 'Storm Emma' has brought strong winds, drifting snow, blizzards, freezing weather, and also human deaths.
The freezing weather has left hundreds of thousands of homes and businesses without electricity and commuters unable to get to work.
Economists had forecast GDP growth of about 0.4% for the first quarter of 2018. They are now reducing their predictions by up to fifty percent.
BBC News quotes Phil Dorrell, a retail expert, who said that the recent freeze could be a total 'disaster' for high street retailers.
With millions of people staying at home, consumers either did no shopping at all or opted for online retailers.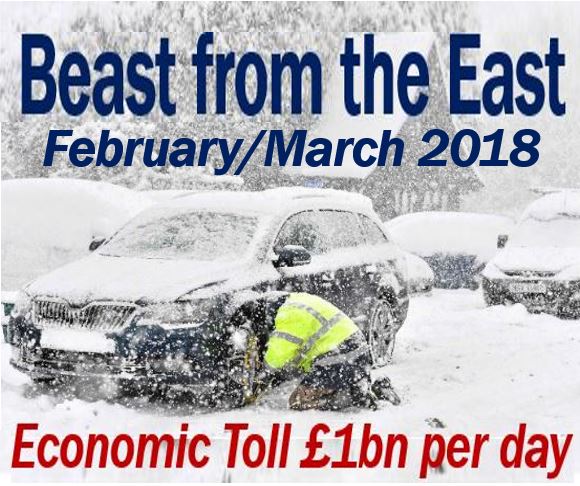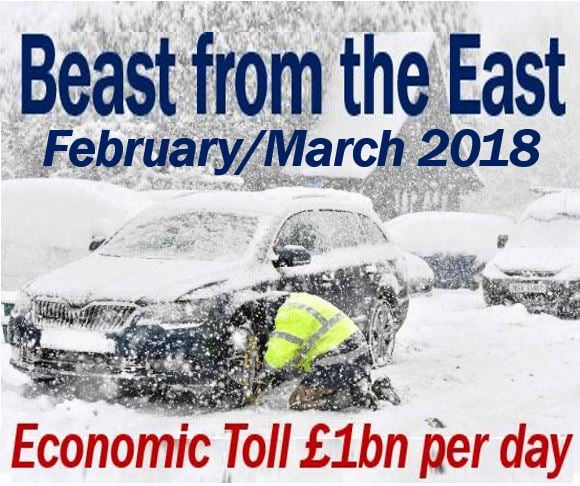 Freezing weather hit many sectors
Construction and retail activity have suffered badly. However, others sectors of the economy are also likely to report significant declines in business activity.
The supply chains of the travel sector, restaurants, and big business have suffered serious disruptions.
In an interview with BBC News, Chief Adviser to the forecasting group EY Item Club, Howard Archer, said:
"There will obviously be a significant hit to UK economic activity."
However, he also added that most of the loss will not be permanent, i.e., sectors will recover their losses.
Modern telecoms a blessing
Thanks to modern telecommunications technology and the Internet, a growing number of employees can work from home. Therefore, rather than risk commuting, many people worked normally from home during the freezing weather.
A Guardian article quotes economists who estimated minimum losses for the economy of £1 billion per day.
General output would decline by about one fifth, said the Centre for Economics and Business Research. Energy production, on the other hand, rose by about twenty percent.
However, the Centre added: "Netting out these effects leads us to suggest that UK output is reduced by around £1bn per day, compared to normal."
Video – Freezing weather UK
As this Guardian News video shows, some people and animals had great fun fun during the freeze.