The International Monetary Fund (IMF) warned that US President Trump's plan to impose a 25% tariff on steel imports and 10% tariff on aluminium imports would hurt the US and other countries.
Gerry Rice, the International Monetary Fund's spokesperson, made the following statement:
"The import restrictions announced by the U.S. President are likely to cause damage not only outside the U.S., but also to the U.S. economy itself, including to its manufacturing and construction sectors, which are major users of aluminum and steel.

"We are concerned that the measures proposed by the U.S. will, de facto, expand the circumstances where countries use the national-security rationale to justify broad-based import restrictions.

"We encourage the U.S and its trading partners to work constructively together to reduce trade barriers and to resolve trade disagreements without resort to such emergency measures."
Trump is keen on reversing the persistent trade deficit in steel products that the US has experienced for over a decade.
US steel imports by country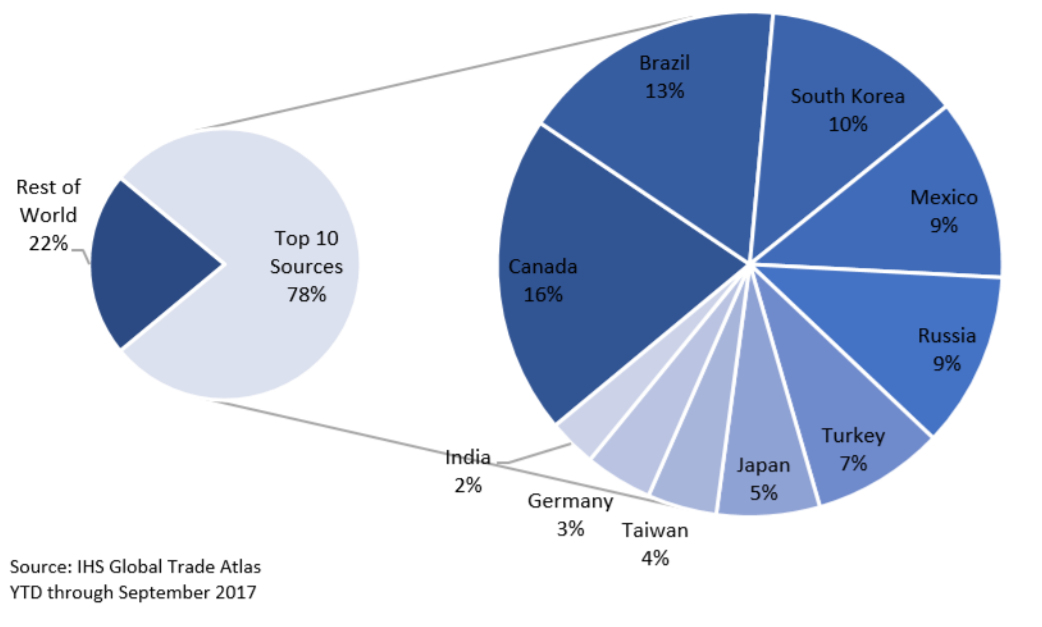 According to a report by The Washington Post, Canada, one of the main suppliers of steel to the US, sees the hefty tariffs as "upending decades of economic cooperation and integration."
Last year, Canada exported $7.2 billion of aluminum and $4.3 billion of steel to the US.
Douglas Porter, chief economist at the Bank of Montreal, was quoted by the Post as saying: "We're pretty consistently flabbergasted that Canada is at the top of the hit parade of trade villains"
Canadian Prime Minister Justin Trudeau said that the tariff proposal is "absolutely unacceptable,"
Speaking at an event in Barrie, Ontario, Trudeau said: "We will continue to engage with all levels of the American administration in the coming days so that they understand that this proposal is unacceptable,"
World Trade Organization Director General Roberto Azevedo said: "A trade war is in no one's interests."
Critics argue that the tariffs would ultimately raise prices for consumers and won't necessarily protect American jobs in the long-run.
A Chinese foreign ministry spokesman said: "If all countries followed the example of the United States, [it] will undoubtedly result in a serious impact on the international trade order."
Theo Leggett, business correspondent at the BBC, said in his analysis of the situation:
"If trade wars really were good and easy to win, the World Trade Organisation probably wouldn't exist. Most countries believe that negotiations are best carried out and disputes settled through a rules-based system. Introducing trade barriers on a tit-for-tat basis has the potential to harm companies on both sides."
---
Video – What is International Trade
International trade refers to imports and exports; countries buying and selling things from/to each other.
---