French business grew in March; private firms registered their fastest pace of expansion in 30 months, reversing predictions of further GDP shrinkage. A preliminary estimate of PMI (Markit's composite Purchasing Manager's Index) for March was 51.6 compared to 47.9 in January.
Any PMI reading of 50 or higher suggests growth.
Expansion was seen across both the services and manufacturing sectors. Services saw the first signs of growth in five months in March, which had the highest reading in five months.
Manufacturing registered a solid output rise, its steepest increased since May 2011.
French business – new orders rose in March
The number and volume of new orders received also rose in March in French private sector companies, ending five successive months of decline.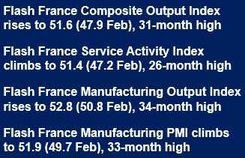 Growth in new orders in the manufacturing sector "picked up to a solid pace that was the sharpest in 34 months," partly driven by a more rapid increase in new export orders.
Service providers registered marginal growth in new business, after five consecutive months of falls.
French private companies reported growth in outstanding business for the first time in six months. March's increase was the steepest since August 2011, "with service providers and manufacturers both indicating higher backlogs of work."
Employment stabilizing in French business sector
The employment climate appears to be stabilizing in the French private sector as the rate of worker layoffs eases to "a negligible pace." Staffing levels in both manufacturing and services companies were little changed in March.
Input prices rose for the tenth successive month. However, overall inflation slowed in March to its lowest level since July 2013. While service providers reported a slight increase in costs, manufacturers experienced a steep reduction.
Senior Markit economist, Jack Kennedy, said:
"Much improved PMI data in March indicate that the private sector is moving in the right direction, with activity, new business and backlogs all returning to growth. Improving conditions both at home and abroad were reported to have contributed to expansion, although there was further evidence that price discounting had been necessary to support sales."
"If activity growth can gain some traction in the coming months then we could also see some improvement on the employment front, which would deliver a timely boost to confidence."
French PMI rises while Eurozone's falls

(Sources: Markit, INSEE via EcoWin)
France's surprise business optimism contrasts with a Eurozone composite PMI of 53.2 for March, which was lower than 53.3 in February. Although the Eurozone's PMI for March fell in comparison to February, it was 3.2 points above 50, which is a positive indication.
It appears that the Eurozone is going through a period of sustained growth. According to Markit, its economy has been expanding for nine consecutive months. Analysts forecast Eurozone GDP growth of 0.5% in 2014.
The number of job vacancies and people in employment in the Eurozone has improved for the second consecutive month.
Germany reported a slowdown in economic growth in the private sector in March, surprising most analysts. The Markit Flash Germany Composite Output Index dropped from 56.4 in February to 55 in March.
Written by [google_authorship]