March Eurozone growth continues the bloc's strongest period of GDP expansion since the first half of 2011. While March's PMI (Markit Purchasing Managers Index) came in at 53.2, a drop from February's 53.3 (32-month high), it confirmed nine successive months of economic expansion.
New orders growth picked up in March to the fastest rate since May 2011, indicating that growth will probably accelerate again in April. The Eurozone also registered the largest increase in backlogs of work since June 2011.
Employment saw a slight increase in March, providing the first signs of real job creation since the end of 2011.
March Eurozone growth boosts optimism
Markit wrote in relation to employment:
"The stabilization of the job market contrasts markedly with the steep rate of job losses this time last year, highlighting the extent to which business confidence has been revived. Optimism about the year ahead in the service sector rose further in March, reaching its highest since 2011."
Activity in the service sector has risen for eight consecutive months, even though March's increase was more moderate than the month before. Growth in new business picked up slightly in March reaching the last peak of June 2011, encouraging companies to recruit more staff. "Although only slight, the increase in service sector headcounts was notable in being the largest since December 2011."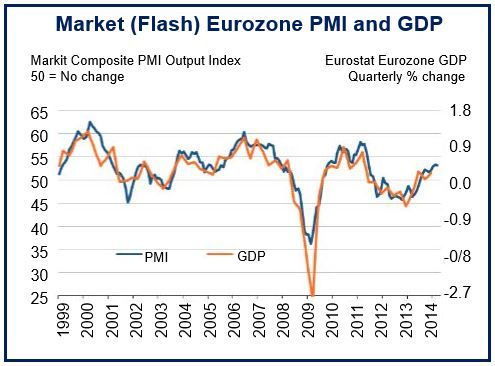 (Source: Markit/Eurostat)
Manufacturing and new orders grew
Both new orders and manufacturing output rose for the ninth consecutive month, at solid rates that were similar to those registered in February.
For the third successive month, factory employment increased slightly. Most companies are still concentrating on upping productivity to improve competitiveness.
Despite more new orders and greater business activity, price rises continued to drop. Input costs rose at their lowest rate in nine months, while prices charged by service and manufacturing providers registered their steepest drop since July 2013.
Respondents said their main reason for dropping prices was to gain business.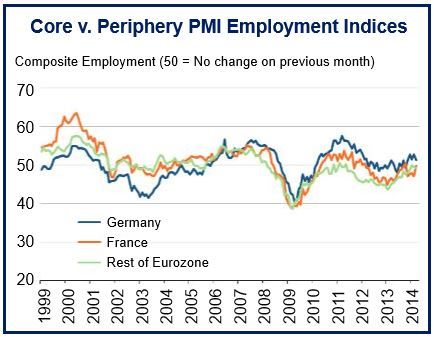 (Source: Markit/Eurostat)
Germany slows, France surprises with good figures
France registered growth in new orders and output, surprising most economists who had expected further declines. Both indicators registered their largest increases since August 2011.
German output growth slowed down to a 4-month low in both services and manufacturing. However, Markit analysts described Germany's growth as "solid, finishing off the best quarter of growth since the second quarter of 2011." Investors worldwide had expected better German growth figures, resulting in a dollar rise against the Euro on Monday.
In the rest of the Eurozone new orders and output rose in March for the eighth successive month, but in both cases rates of increases were lower than those registered in February.
Markit's chief economist, Chris Williamson said:
"The ongoing upturn in business activity in March rounds off the Eurozone's best quarter since Q2 s011. The survey is signaling a 0.5% increase in GDP for Q1 2014, building on the 0.3% rise seen in Q4 2013."
"Gemany looks set to have grown by 0.7% in the first three months of the year, spearheading the region's upturn, despite its PMI slipping lower in March. However, perhaps the best news this month is the sign of the region's upturn spreading to France. While PMI is consistent with a mere stabilization of the French private sector economy in Q1 2014, the improvement in the PMI to a fully-fledged recovery will be evident in France by the second quarter."
"The rest of the region also enjoyed its best quarter for three years, providing further evidence that the 'periphery' is tagging a robust-looking recovery."
"Policymakers will be encouraged by the survey in terms of the signs of sustained recovery. However, concerns will persists regarding the deflationary forces, especially in the periphery. With prices charged by manufacturers and service providers both falling again in March, there remains an argument for further stimulus, especially if the rate of growth of activity cools again in April."
S&P raises Eurozone outlook
Credit ratings agency S&P (Standard & Poor's) raised its growth forecasts for the Eurozone moderately. The agency believes Eurozone GDP will expand by approximately 1% in 2014 and 1.5% in 2015. It also warned that there are factors which could impact on growth negatively, including the Ukraine crisis and slower emerging economies.
Jean-Michel Six, S&P's chief economist for Europe, Middle East and Asia, said:
"The key question is whether this initial revival in eurozone growth will gain fresh impetus from the private sector through stronger consumption and more buoyant investment, or remain overly dependent on foreign trade."
Written by [google_authorship]