Despite lots of chest beating about the UK wanting a reformed European Union (EU) that he can then sell to his voters before a promised referendum, Prime Minister David Cameron continues to frustrate EU leaders – because nobody really knows what Britain's wish-list is.
On Friday, a Downing Street official who wanted to remain anonymous assured that a comprehensive wish-list will be ready and sent to Donald Tusk, Council President, and the other 27 member states, in early November.
Mr. Cameron says his bid to renegotiate terms with the trading bloc is 'bloody hard work'. One wonders how he will describe the process when his list has some meat on it and negotiations begin in earnest.
Does Mr. Cameron have the dance moves to get a good deal?
EU has other more pressing problems
Several EU leaders made it clear that there are more pressing problems to deal with, such as the migration crisis and making sure Greece's debts do not blow up again. Many doubt that a deal with the UK is coming any time soon.
---
---
However, Mr. Tusk said he was pleased Mr. Cameron will be laying out his thinking in writing.
Britain is the EU's second largest economy (after Germany) and one of its two major military powers (along with France). The UK is also a major net contributor of funds to the EU. If its electorate vote to leave the bloc in the impending referendum, it will shake the Union to its core.
However, it would also mean that the ₤350 million the UK sends to Brussels each week could stay in at home. Equivalent to ₤20 billion per year, it would pay for 52 state-of-the-art teaching hospitals annually, cover half of England's schools budget, or four times the nation's science and research budget, according to 'Vote Leave', the cross-party Brexit campaign that was unveiled last week.
The 'In Campaign' warns that Brexit (Britain Exiting the EU) would significantly damage the country's economy and probably trigger another Scottish independence vote and the break-up of the nation.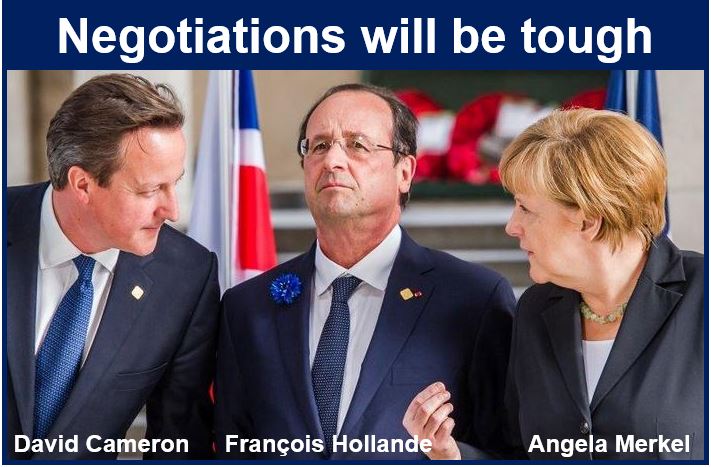 Persuading the French and German leaders will be hard enough. Mr. Cameron also has to persuade the heads of all the other EU Member states.
Is Cameron for or against Brexit?
Which way does Mr. Cameron lean – to stay in or leave the EU? So far, he has kept his cards close to his chest. Until he has a deal that he believes is good enough to sell to his electorate, he and his government are refusing to say which camp they will back.
As he arrived for a summit of EU leaders in Brussels, Mr. Cameron said:
"I'm confident we can get a good deal for Britain, fix those things that need to be fixed."
Britain is adamant about not transferring further sovereignty to the EU, Mr. Cameron has repeatedly stressed. He added that Brits are unhappy with the current settlement. The renegotiation started officially in June 2015, when a brief summary of the UK's objectives were presented to other leaders.
This 'brief summary' is really just 'talks about talks', or to use Mr. Cameron's euphemism, a move towards a new stage of wider negotiations ahead of December's meeting.
No ever-closer union plus…
What is not negotiable, Mr. Cameron has told EU leaders, is that its goal of ever-closer union must not apply to the UK.
Britain's financial interests outside the Eurozone also need to be protected, he added, as well as new regulations to promote growth, competitiveness and jobs, plus an overhaul of welfare regulations to stem the movement of workers from within the EU towards the UK.
Whether Britain can get what it wants depends on what it wants, senior EU officials and diplomats have emphasized. For any substantive political negotiation to occur in December, the EU needs to receive clear, written proposals by early November.
It takes two to tango
Jean-Claude Juncker, EU chief executive, said earlier this week just before meeting with Mr. Cameron:
"I can't say that huge progress has been achieved. I can't say that nothing has been achieved. But to tango it takes two. And so we have to dance and our British friends have to dance."
Mr. Juncker said he had a good talk with Mr. Cameron over lunch, describing it as friendly, polite, and constructive.
Video – Nigel Farage answers questions
In this video, Nigel Farage, leader of the anti-EU party UKIP, explains what the procedure would be to leave the Union if people voted that way in a referendum.