The German August Business Climate Index for industry and trade declined, says Ifo, a Munich-based research group. The Index fell from 108 in July to 106.3 in August.
According to Ifo, German companies were again less satisfied with the country's current business situation.
German firms say that their country's economy continues losing steam. With regard to the further course of business, they are more doubtful than they were in July.
The closely monitored business survey adds to growing evidence that Europe's largest economy is struggling, after shrinking in Q2 2014.
Manufacturing and business climate index down
The manufacturing and business climate index plunged to its lowest level since July last year. For the third month running, the current business situation was seen as more negative.
With less stimulus expected from exports, the outlook for the coming months has declined considerably, the report notes.
Wholesale & retail business climate indexes down
The wholesale business climate index also dropped it its lowest level in 12 months. Wholesalers in August were much less satisfied with their current business situation. For the first time since July 2013, most wholesalers today are slightly pessimistic.
There was a significant deterioration in the business climate for retailers, who say their current situation has taken a clear turn for the worse. Retailers are also doubtful about future business development.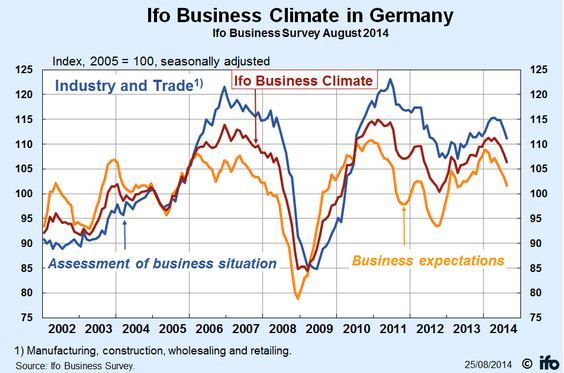 (Source: The Ifo Institute)
Construction index up
The only sector to register anything positive was the construction index, which improved marginally. Construction firms report they are slightly more satisfied now with their current situation compared to July. Their business outlook has also improved.
The Conference Board reported earlier this month that Germany's June Leading Economic Index fell, after increasing slightly in May.
Figures published by Statistisches Bundesamt two weeks ago showed that factory orders declined by -3.2% in June compared to May (which had also fallen, by -1.6%). Foreign orders plunged by -4.1% while domestic orders dropped by -1.9%.
Russian sanctions undermining German economy
Germany's Federal Ministry for Economic Affairs & Energy wrote "The geopolitical developments and risks above all led to certain reluctance in placing orders."
The Ministry warned that GDP growth for the coming months will be "moderate".
After the Malaysian Airlines plane (flight MH370) was shot down over Ukraine, and the European Union started discussing ramping up sanctions against Russia, the German Industry Association warned that there would be a serious slump in exports.
The European Union, which does more business with Russia than the US does, is torn between making a stand against Moscow and preventing serious economic repercussions across the continent.
Last year, German exports to Russia totaled €36bn ($48.7bn). Most companies in the country are now lowering their 2014/2015 outlooks because of declining exports to Russia.
Adidas, a large German multinational maker of sports shoes, clothing and accessories, which sold over €1 billion's worth of products in the Russian market in 2013, announced it was shutting down branches in Russia.
Volkswagen also reported a considerable drop in sales to Russia.