During the second quarter, German GDP shrank by 0.2% on the previous quarter, says Destatis, the Federal Statistical Office, which commented that "The German economy is losing momentum."
Economists were surprised at the size of the contraction, the first in over a year. There is growing concern that the Eurozone's recovery may have come to an end after data from Italy showed the country has slid back into recession and the French economy has not grown at all during the first six months of 2014.
The Eurozone flatlined in Q2, i.e. it posted zero growth. There will be increased pressure on the European Central Bank to take additional measures to boost growth and push up inflation.
The high growth rate (0.4%) in the first quarter of 2014 was probably due to abnormally mild winter weather, the agency commented, which may explain Q2's poor performance. In other words, because of the warm winter the usual strong spring rebound in construction did not happen.
Poor foreign trade and capital formation
The GDP decrease was partly driven by unfavorable foreign trade and capital formation figures. Exports increased more than imports – when the trade balance is reduced, it has a negative effect on GDP growth calculations. Capital formation in construction dropped considerably.
Spending by the government and households increased marginally compared to the previous quarter, the agency informed.
Compared to Q2 2013, GDP expanded by 0.8% in Q2 2014, slightly less than figures posted in the first quarter.
The Eurozone has depended almost entirely on Germany for economic growth since the Great Recession. GDP expansion slowed down towards the end of 2012, and grew only moderately during 2013. The currency bloc relies on Germany for one quarter of its output.
The German government's 1.8% growth rate forecast for 2014, four times 2013's rate, is starting to look somewhat hopeful.
Ukraine crisis partly to blame?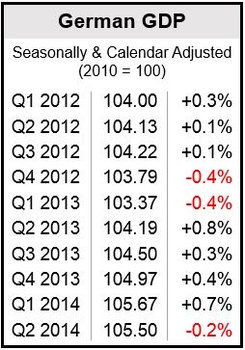 Is this the price Germany and the Eurozone members are having to pay for ramping up sanctions against Russia for allegedly meddling in the Ukraine crisis and being indirectly involved of the downing of flight MH370?
Most German economists and a significant proportion of analysts around the world believe that uncertainty over the Ukraine crisis, Russian sanctions and other regional conflicts will have a negative effect on German growth, with is heavily reliant on foreign trade.
When the European Union was discussing more stringent sanctions against Russia, following the shooting down of flight MH370 over Ukraine, the German Industry Association expressed alarm and warned of a severe slump in exports.
The US and its allies, but especially European nations which are more closely involved with Russia economically, are torn between making a decisive stand against Moscow and preventing economic damage.
Deutsche Welle quoted Volker Treier, deputy head of the Association of German Chambers of Commerce and Industry (DIHK), who said:
"Every third job in Germany depends on exports. If we interrupt German-Russian trade, then we have 300,000 jobs that are affected by this trade. There are many companies that have made enormous investments in Russia. Do they now have to pay for a political conflict? As a spokesman for industry, I have my doubts, and we have to articulate these doubts."
Mr. Treier pointed out that the previous sanctions, before the Malaysian flight tragedy, were already having a significant effect on business. Exports to Russia declined by 13% during the first five months of 2014, compared to the same period last year.
German business leaders warn that Russia is actively seeking business partners in other parts of the world for doing business, especially in China.
Exports to Russia plunging
In 2013, Germany exported €36 billions' ($48.7bn) worth of goods to Russia. Several major German companies have started lowering their 2014/2015 outlooks because of lower-forecast trade with Russia.
Earlier this month, Adidas, which sold more than €1 billion's worth of goods to Russia in 2013, announced it was closing down branches and reducing its expansion program in the country. Instead of opening 150 new stores, as previously planned, only 80 will be opened.
The largest carmaker in Europe and the second biggest in the world (after Toyota), Volkswagen, reported earlier this week that Volkswagen car brand sales in Russia had fallen by 15.7% during the first six months of this year compared to the same period last year.
The Conference Board's Leading Economic Index (LEI) for Germany declined in June. A significant downturn was recorded in investment goods industries and consumer confidence.
What are Sanctions?