The German right, the country's conservatives, including Chancellor Angela Merkel, will back David Cameron in his attempt to improve the European Union, but warn him that he will lose their support if he aims for a British Europe.
Manfred Weber, leader of the centre-right European People's Party (EPP), and Member of the European Parliament for Bavaria, in an interview with German daily Frankfurter Allgemeine Zeitung, said his party is keen to support UK Prime Minister David Cameron if he wants to reform the European Union, including addressing its lack of competitiveness and bureaucracy.
Before this year's general elections in the UK, which Cameron's Conservatives won, he promised to hold an in-or-out referendum regarding European Union (EU) membership by the end of 2017.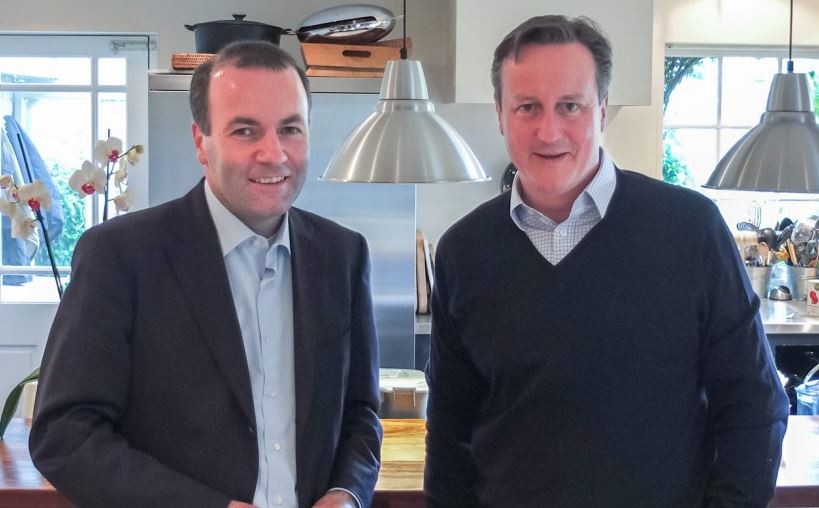 Manfred Weber and David Cameron. They both see eye-to-eye regarding a more business-friendly EU, but differ on how they view the block should be as a political entity. (Image: bayernkurier.de)
Mr. Cameron had a meeting earlier this month with EU's political leaders. He explained that in order to persuade Britons to remain in the trading bloc, there has to be some changes in the UK's terms of membership.
If he does not get what he asks for, Mr. Cameron hinted that he might decide to join the anti-EU campaign. He is pushing to reduce immigrant worker benefits for a period of four years, return more sovereignty to Westminster, protect the City (London's financial district) from discrimination by the Eurozone, and improve business competitiveness.
A better Europe not a British Europe
According to Reuters, Mr. Weber was quoted as saying in a copy of the interview that the German paper will publish on Tuesday:
"We want to help Cameron but we don't want a British Europe, we want a better Europe."
According to Frankfurter Allgemeine Zeitung, Mr. Cameron will attend a CSU party conference in January 2016.
While acknowledging that Mr. Cameron sees the EU as a trading bloc primarily, the CSU also places a high priority on the EU as a political community and a "a life insurance policy in times of globalization."
If the UK manages to get the deal Mr. Cameron is after, the British Government "must not be allowed to continually apply the brakes if other countries want to work together more closely," including military cooperation, Mr. Weber insisted.
Mr. Weber added:
"If we end up with a weaker Europe after the reforms that are now being discussed with Great Britain, it will be difficult to find a joint path with London."
Intensive negotiations ahead
During the first months of 2016, Mr. Cameron will face intensive negotiations with the other 28 EU member states. He hopes to return to London claiming to have got a 'Fair deal' and recommend to his electorate to vote 'Yes' (remain in the EU).
Ever since Britain, along with Denmark and Ireland joined the EU in 1973, the British tabloid media has sustained a non-stop anti-EU campaign. They are unlikely to stop just because the country has a good deal.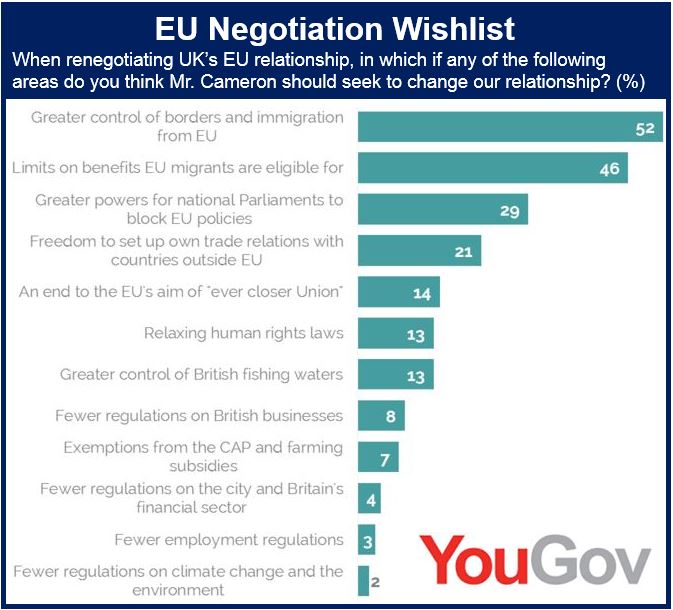 If Mr. Cameron does not get a deal on the first two on the list above, the electorate will probably vote to leave the EU. (Image: yougov.co.uk)
According to several recent opinion polls, Britons are gradually moving towards the Brexit camp.
The number of floating voters (undecided) in the UK is large. Most experts estimate that the country is divided three ways – one third want to stay in the EU come what may, another third want to get out, and about thirty-three percent are undecided. As we all know, the undecideds generally determine election results.
If the referendum is held in the summer of 2016 – a scenario that is becoming more likely – every single of the 46 million votes will count in an extremely tight contest. Much will depend on how 'Europe' is perceived by the electorate.
Britain's business community generally wants to remain in the EU, but has kept frustratingly quiet, much to the annoyance of the pro-EU camp.