Germany posted 0.1% GDP growth in the third quarter, meaning it just avoided falling into recession after contracting by a revised -0.1% in the second quarter. A country is technically in recession if it experiences two consecutive quarters of contraction.
This means that the Eurozone will continue growing, but only just.
Germany started the year full of hope and optimistic predictions after posting 0.8% growth in the first quarter.
Germany's panel of independent advisers commissioned by the government has cut its 1.9% forecast for full-year GDP growth in 2014 to 1.2%, and just 1% in 2015.
France exceeded economists' predictions and posted 0.3% GDP growth, making Q3 its best quarter in 12 months. However, its second quarter has been revised down to (minus) -0.1%.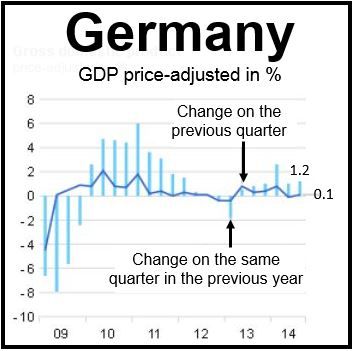 (Source: Statistisches Bundesamt, Wiesbaden 2014)
France's President François Hollande, who in January had forecast economic growth of 0.8% for the full year, today predicted it would be just 0.4%. The French government said it will not be able to meet its pledge of reducing its public deficit to 3% of GDP in 2015.
French Finance Minister Michel Sapin said "Activity has somewhat taken off but remains too weak to create the jobs our country needs." He urged the EU and other Eurozone countries to do more to stimulate growth.
Earlier this month, Spain reported 0.5% economic growth for the third quarter, which is likely to be the best performance within the Eurozone.
To spend or cut debt, that is the question
There is currently a battle of policy between fiscally disciplined Germany, and Italy and France that have been urging the EU to concentrate more on growth-boosting measures rather than trying to reduce debt.
Germany, the only country with a large current account surplus, refuses to change its policy.
Even the United States appears to have sided with Italy and France. US Treasury Secretary earlier this week said that the Netherlands and Germany need to boost spending while Italy and France should decelerate the pace of their public deficit reduction.
In its latest report – "DIHK-Survey Fall 2014" – Germany's Chamber of Commerce DIHK says the business situation in Autumn has deteriorated. The headwind coming from foreign trade is increasing in strength, and the export industry has lowered its sights significantly in its situation assessment. It urges the government to alter its course and opt for a more business-friendly policy.