UK banks are raising the pressure on the Government to get a transitional Brexit deal, warning that there could be serious damage to the country's financial sector, plus a mass exodus of City jobs. which would migrate to continental Europe and/or Ireland.
Sir Howard Davies, Chairman of Royal Bank of Scotland, said on Sunday that a hard Brexit would be dangerously destabilizing for the country's financial sector and the overall economy.
In 2008, Royal Bank of Scotland was bailed out by the British taxpayer to the tune of £45 billion.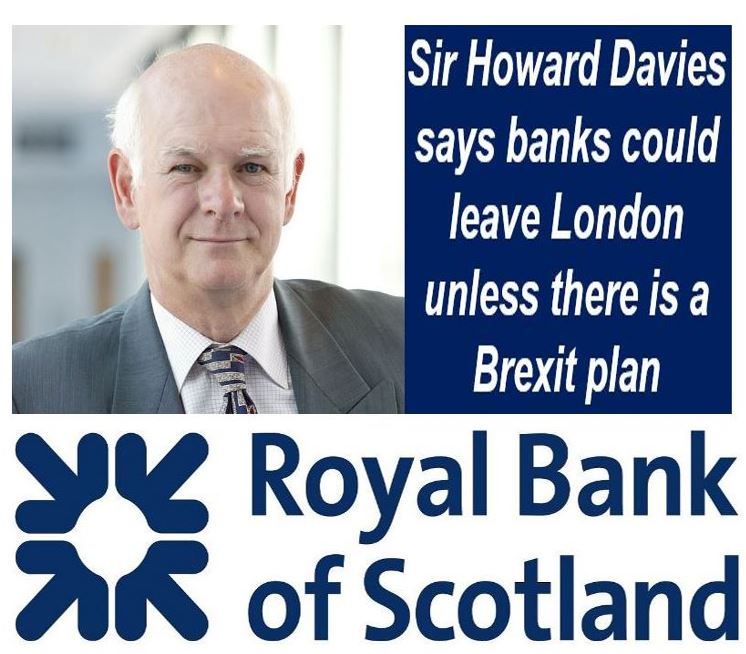 Without a Brexit transitional deal, banks will start moving their staff and assets out of the United Kingdom, the Chairman of Royal Bank of Scotland, Sir Howard Davies, warned.
Transitional deal crucial says Sir Howard
Banks and other financial institutions have been lobbying for an agreement with the European Union designed to cover the gap between the UK completing its exit negotiations and agreeing a new trade deal. They argue that a transitional arrangement with the EU would prevent a 'cliff edge' effect, which could be extremely disruptive.
In an interview on ITV, Sir Howard said:
"It is damaging if we don't get a transitional deal because I think you will then see banks and financial institutions making decisions on the basis of uncertainty."
---
---
"They are currently making contingency plans and once you have got a contingency plan there is a risk you might implement it one day and therefore I think that it is quite urgent."
According to Sir Howard, it is possible for the UK Government to get a transitional deal with the 27 other EU member states, because they know that their companies would also suffer if they could not raise finances in London after a hard Brexit.
Sir Howard believes that there is the basis of a compromise.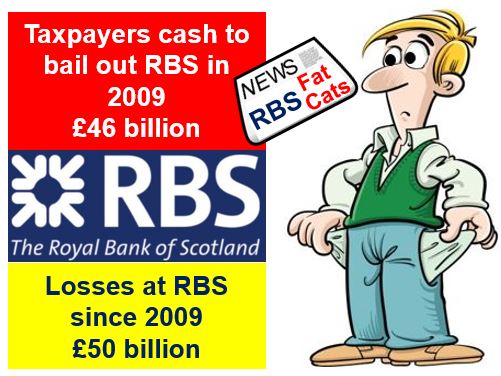 British taxpayers won't be pleased to see the banks telling the Government what to do and threatening to jump ship. Even after the giant bailout, RBS (Royal Bank of Scotland), according to the Financial Times, is still a massive loser.
Nobody knows May's plans
Britain's Prime Minister, Theresa May, has kept her cards very close to her chest regarding the Government's Brexit plans. The majority of London bankers and financiers understand that she must do this before sitting at the negotiating table.
However, Sir Howard believes Ms. May needs to say more about what will happen during the transition – the time between invoking Article 50 and the final separation from the EU.
---
---
Mr. Davies said that Royal Bank of Scotland would make decisions regarding its resources – what to keep in the UK and what to shift abroad – when it knew whether the UK would retain its passporting rights.
Passporting refers to the right of a financial institution being registered in the European Economic Area (EEA) to do business in any other EEA nation, without having to request further authorization in each country. Put simply, it is like a type of financial passport that allows a company to operate across most of Europe, i.e. the EEA member states, which include the 28 EU countries plus Norway, Iceland and Liechtenstein.
If you operate in London and the UK has passporting rights, which it currently does because it is an EU member state, you do not need to set up shop in each EEA nation. In a Hard Brexit, the UK would lose unfettered access to the EU market and passporting rights, experts believe.
British taxpayers, who had to pay out hundreds of billions of pounds in bailout money to UK banks during the global financial crisis and Great Recession that followed it, will not like seeing those same institutions forcing the government's hand.
Since 2008, the salaried taxpayer has had to endure nearly a decade of below-inflation pay increases, while watching banking executives getting paid giant bonuses again – even in cases where their financial institutions are is still reporting heavy losses. For the taxpayer, bankers requesting a transitional deal will seem a bit rich.