The current international target to limit global warming to 2°C will not be enough to stop the worst impacts of climate change, say three independent reports, whose authors describe the current goal as 'inadequate'.
The reports say nations across the globe need to aim for a more ambitious plan to protect human rights, the workplace, and prevent mass migration and displacement.
The Climate Vulnerable Forum (CVF), which commissioned the reports, has urged the UN Framework Convention on Climate Change to reconsider the current 2°C maximum global warming target, which is planned for the Paris climate summit (United Nations Climate Change Conference, COP21) in December.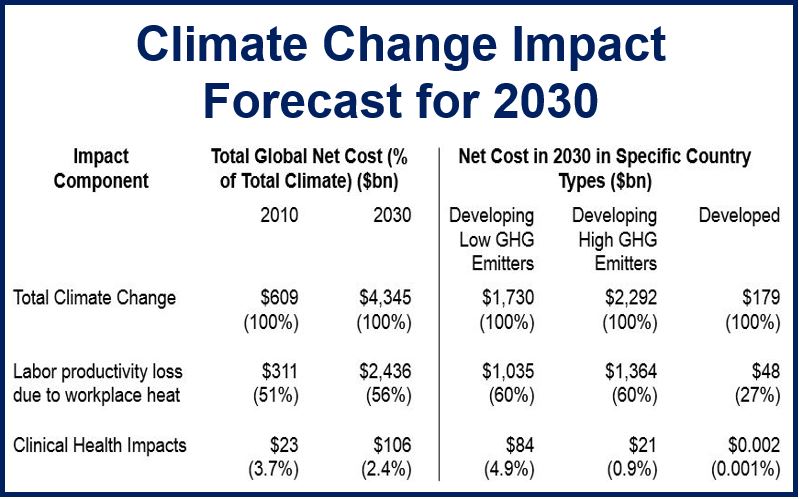 (GHG = Greenhouse gas) Data Source: thecvf.org.
Secretary of the Philippines Climate Change Commission, H.E. Mary Ann Lucille L. Sering, said:
"The reports underscore just how much difference even half a degree of additional heat makes for people's lives, for working conditions and for the movement of people."
"How can we possibly subscribe to more than double current warming given what less than 1 °C has entailed?"
"When we see that warming emissions from the energy sector actually stalled last year despite economic growth, or if we look at the unpredicted pace of low-carbon tech uptake, arguments not to strengthen our aims start to wear thin."
The Climate Vulnerable Forum is chaired by Philippines.
The reports, which have linked climate change to migration, the workplace and human rights, have been produced by leading international experts and scientists. The authors stressed that the risks of allowing global temperatures to rise by 2°C are far too high.
Some CVF members, particularly Pacific island nations, had previously asked for a target of 1.5°C.
The Philippines has suffered from several devastating typhoons since the turn of the century.
Slight temperature rise already impacting
Scientists warn that rising temperatures – which have increased by less than 1°C since before the industrial revolution – are already responsible for a significantly higher incidence of weather-related disasters worldwide.
These disasters, together with sea levels rising due to climate change, pose a serious threat to coastal cities, which in turn could result in large-scale migration and displacement with "devastating consequences", said Walter Kaelin of the international Nansen Initiative on disaster and climate-induced displacement.
Mr. Kaelin, who used to represent the UN Secretary-General on the rights of the internally displaced, said:
"The effects of climate change on human mobility are a global reality that keeps growing in complexity and proportion."
Special Rapporteur on human rights and the environment, John Knox, who headed one of the reports, said:
"Even moving from one to two degrees of warming negatively affects the full enjoyment of a wide range of human rights, and will make it more complicated for countries to respect, protect and promote human rights."