The global wild tiger population has increased significantly since 2010, rising from 3,200 individuals to 3,890 today, an increase of more than 20%. This is fantastic news after this beautiful animal's population plummeted by over 97% during the twentieth century and its future looked hopeless.
According to the World Wildlife Fund and the Global Tiger Forum, after compiling from national tiger surveys, the recent increase is due to rising tiger populations in Nepal, India, Russia and Bhutan – and enhanced and more effective protection for this iconic species.
At the beginning of the last century there were over 100,000 wild tigers in the world. By the year 2000 that number had dropped to slightly more than 3,000. Miraculously, since 2010, the population has been increasing. (Image: worldwildlife.org)
Ginette Hemley, senior vice president of wildlife conservation at WWF, said:
"This is a pivotal step in the recovery of one of the world's most endangered and iconic species. Together with governments, local communities, philanthropists, and other NGOs, we've begun to reverse the trend in the century-long decline of tigers."
"But much more work and investment is needed if we are to reach our goal of doubling wild tiger numbers by 2022."
---
---
It all started with a pledge
In 2010, the governments of nations with tiger populations gathered to pledge the goal of doubling wild tiger numbers by 2022.
While the increase since 2010 is welcome news, the World Wildlife Fund (WWF) emphasized that their work is not done. These countries are meeting again this month to commit to the next steps to keep pushing up tiger numbers and report on their progress.
Accurately monitoring tiger populations and understanding the threat they face is absolutely crucial in order to protect these big cats.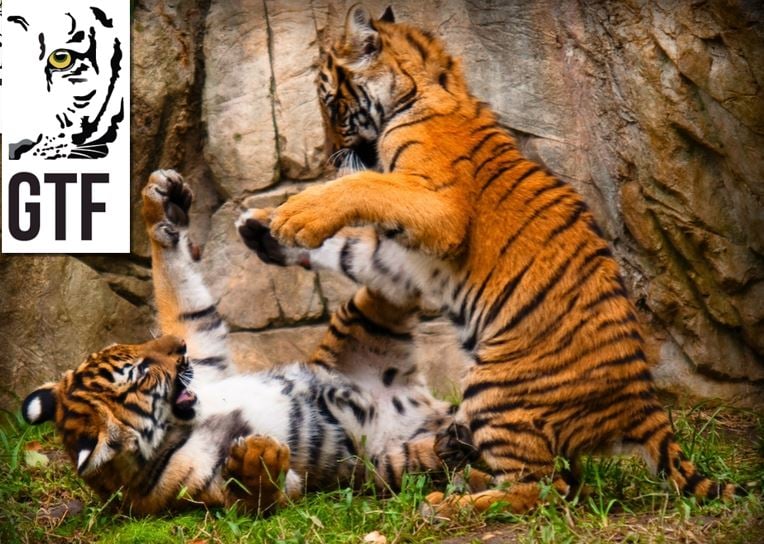 The World Wildlife Fund says: "This big cat is both admired and feared by people around the world. If forests are emptied of every last tiger, all that will remain are distant legends and zoo sightings." (Image: globaltigerforum.com)
The tiger is still classified as endangered and faces daily hazards that could easily push it to extinction. Examples include habitat loss and poaching.
The illegal tiger trade, which feeds a billion-dollar criminal network, sells every part of the tiger – from tail to whisker.
---
---
Bad news in Southeast Asia
Though we have seen solid gains in some parts of the world, things do not look so promising in Southeast Asia, where rampant deforestation and poaching continue to destroy tiger populations.
However, the promising news of rising tiger numbers shows that we can really make a difference when we come together to tackle these challenges.
The World Wildlife Fund (WWF) says it works with local communities, law enforcement and governments to advocate zero tolerance for tiger poaching across the whole continent (Asia), and uses state-of-the-art technology to protect and connect fragile tiger habitat.
"Together, we have a chance to reach our goal of doubling wild tiger numbers by 2022," the WWF wrote.
We must keep the momentum. The WWF invites you to 'Sign on to stop wildlife crime.'
A Sumatran tiger, the smallest surviving tiger subspecies. The last of Indonesia's tigers. There are only about 400 Sumatran tigers in the wild today. (Image: World Wildlife Fund)
Separate study also reports good news
In a separate study, published in the journal Science Advances last week, a team of researchers from Stanford University, the Smithsonian Conservation Biology Institute, the Wildlife Solutions Program, the University of Maryland and the World Resources Institute reported that the chances of doubling the wild tiger population by 2022 are looking extremely promising.
They used a new satellite-based monitoring system to gather and analyse 14 years' worth of forest loss data within 76 different landscapes that have been chosen for the conservation of wild tigers.
Across these landscapes, forest loss was significantly less than they had expected between 2001 and 2014.
Within a subset of twenty-nine landscapes that experts said are most critical for doubling the wild tiger population, 19 showed little change (1.5%) while ten accounted for more than 98% of habitat loss.
Tiger gestation ranges from 93 to 112 days. The mother usually gives birth to two or three cubs. Females rear them alone. (Image: globaltigerforum)
While being one of the most iconic animals on Earth, tigers are also one of the most endangered. Despite their popularity in movies, books and even religions, their numbers plummeted due to poaching, agricultural practices, logging, and infrastructure projects that have destroyed 90% of their habitat over the past century.
Restoring and protecting corridors
Victoria Aris Payne, who works at the World Resources Institute, explains that tigers, which are solitary by nature, require vast areas of land to survive.
One way of securing their vast habitat is by protecting and restoring corridors – strips of land that connect larger zones of habitat, which allow different tiger populations to disperse and mingle.
Tigers are very strong swimmers and often deliberately bathe in ponds, lakes and rivers to keep cool. They can cross rivers up to 4.3 miles (7 km) across and can swim up to 18 miles (29 km) in one day. (Image: globaltigerforum)
Ms. Payne said:
"Habitat loss or gain in these relatively small areas have major impacts on the viability of tiger populations, as demonstrated in Nepal."
There's enough room for wild tigers
There is currently enough intact habitat to support a tiger population three times its current size, say experts. However, we must protect the available land and use it effectively.
The recent increase in the global wild tiger population, plus the lower-than-expected loss in tiger conservation landscapes are promising examples that progress is possible and is indeed occurring. However, we must protect the land that is left.
The habitat that has gone since 2001 would have supported 400 individual tigers, i.e. if they had not lost that land, there would be 400 more wild tigers in the world today.
According to experts, we invest about $750 billion annually on infrastructure projects. We must make sure tiger populations are factored in when these projects are underway.
Video – Wild tiger cub filmed for first time
In this BBC video presented by Sir David Attenborough, a young tiger cub – one of a litter of four – tumbles out of the den, only to be carried back to safety in its mother's huge jaws. This astonishing footage was possible thanks to cameras that had been attached to elephants.