Search engine giant Google Q2 revenue climbed 22 percent to $16 billion from $13.1 billion in Q2 2013, while profits rose by 6% to $3.4 billion. Strong advertising demand helped beat quarterly expectations. In after-hours trading, Google shares rose despite the departure of a top executive and rising expenses.
Patrick Pichette, Google's CFO described Q2 as a great quarter. "We are moving forward with great product momentum and are excited to continue providing amazing user experiences, with a view to the long term," he said.
Advertising activity up
Google's own web sites reported significantly more business activity from advertising. The number of clicks on search ads climbed by 33% in Google sites, including youtube.com and google.com, while in other sites featuring Google ads the increase was a more moderate 9%.
The prices of clicks (average) fell again, by -7% within the Google-owned sites and -13% in non-Google sites.
These figures reflect a shifting trend towards more smartphone usage, which have generated greater Google ad volume, but in the end fewer sales for advertisers.
Analysts estimate that advertisers over the last eleven months paid about one third less for a click on a smartphone than on a tablet or desktop. The gap between the two is getting smaller.

(Data source: Google Inc.)
Rising costs
Future profitability could be eroded by signs of rising costs. During the second quarter, the company employed 2,414 more workers, bringing the workforce total to 48,584 (excluding Motorola).
Capital expenditure increased considerably in the second quarter, to $2.6 billion, or 17% of revenue, versus 12% ($1.6 billion) in Q2 2013.
'Other revenue' increased to 53% in Q2, compared to 48% in Q1. App sales on Google Play, the company's largest business after advertising, grew rapidly. At Google Play users of tablets and smartphones powered by Google's Android operating system can purchase books, music, games and other offerings.
The Wall Street Journal quotes eMarketer which says that Google is by far the largest advertising company in the Internet. It is forecast to generate $44 billion of net advertising revenue in 2014, a 15% increase on 2013. Facebook is expected to generate $10.9 billion in advertising sales over the same period, a 56% increase on the previous year.
Nikesh Arora exits Google
Google's Chief Business Officer, Nikesh Arora, is leaving to join SoftBank Corp. as vice chairman and also as CEO of SoftBank Internet and Media.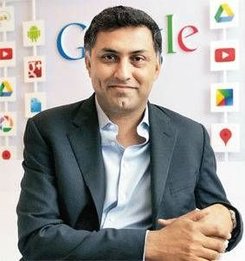 Omid Kordestani, who helped create Google's business model and has been the company's senior adviser, will become the new Chief Business Officer.
Mr. Arora joined Google nearly ten years ago, before the company's IPO (initial public offering). He was a key figure in building Google's search-ad service into the world's number one ad business.
Nikesh Arora was born in India. He graduated from the Indian Institute of Technology Varanasi with a bachelor's degree in electrical engineering. He has a degree from Boston College and an MBA from Northeastern University.
Mr. Arora had previously worked at Fidelity Investments, Putnam Investments and Deutsche Telekom. He is currently a member of the board of directors at Colgate-Palmolive Company.
New products, ventures and acquisitions
Google is investing heavily in diversification through research into new products and buying up companies.
Last week, it announced the launch of a Google Ventures European fund, aimed at identifying technology start-up companies. The company is investing $100 million in the fund as a first step.
In June, a Google domain name registration service was unveiled. Customers will be able to search, find, purchase and transfer business domain names. The service is currently being tested. The company says about 55% of all small businesses do not have a domain name.
The Google Self-Driving Car Project team says it plans to build about 100 prototypes and will start testing self-driving cars late this summer. The company plans to have a small pilot program of prototypes within the next two years.
In May, Google acquired Rangespan, a start-up company that uses data science to help retailers decide which products to put on sale and when to sell them.
Google bought digital-thermostat maker Nest Labs earlier this year for $3.2 billion. In June, Nest Labs (which by then belonged to Google) acquired home-monitoring start-up Dropcam for $555 million.
While Google's and Facebook's fortunes continue to improve, Yahoo's Q2 profits plummeted by 18% and its display advertising fell by 8%.
Video – Google reports strong Q2 2014 sales