The next installment of the Greek bailout – €8.3bn ($11.4bn) – has been approved by Eurozone ministers. According to Jeroen Dijsselbloem, Dutch Finance Minister and Chairman of Eurogroup, an initial €6.3bn will be paid at the end of April, followed by €1bn in June and €1bn in July.
This latest Eurozone installment had been help up since September 2013 with the European Commission, the International Monetary Fund, and the European Central Bank insisting that the Greek government had not implemented the economic reforms it had promised.
Approval was also delayed by a dispute on how much capital the country's banks needed to return to health.
On Sunday, the Greek parliament managed to pass a multi-bill of reforms (by one vote) which included cutting healthcare costs, altering collective wage-bargaining legislation, and freeing up some of the rules on products and services.
Greek Finance Minister, Yannis Stournaras said "It took a long time but I think the end result satisfies us all."
Greece commits to a series of reforms
Dijsselbloem said:
"The Greek government is implementing or is committed to undertake in the near term important reforms that will enhance Greece's growth potential, create job opportunities and spur investment. This includes concrete measures to liberalize transport and rental markets and to open up closed professions, as well as far-reaching energy market reforms and an overhaul of the privatization process for public corporate and real estate assets."
"Subject to the implementation of these reforms, Greece will get €8.3 billion from the EFSF to be disbursed in 3 tranches over the coming months, with a first tranche of €6.3 billion at the end of April that will allow Greece to meet its debt servicing obligations in May and 2 further disbursement of each €1 billion will take place in June and July on the basis of fulfilment of six milestones per tranche."
Full Eurogroup statement on Greece.
The Greek government says it is planning to sell €2 billion ($2.8 billion) of bonds. It may even sell more bonds later on and could raise as much as €5 billion this year.
In a press conference Stournaras said "A small issuance of bonds, three- or five-year bonds, in the first semester, somehow in the first semester of 2014, will also contribute to the financing needs of Greece."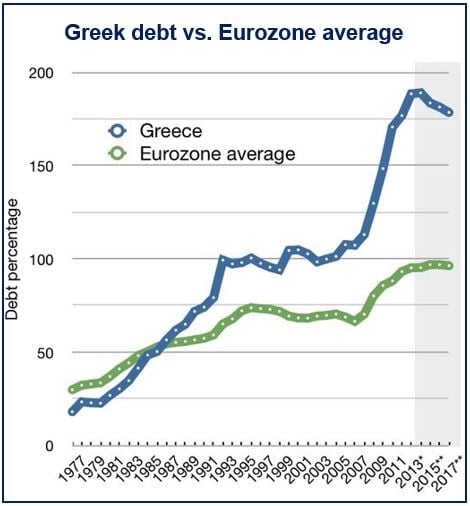 Greek debt eventually became uncontrollable and the country had to be rescued with bailouts totaling hundreds of billions of Euros.
Greece to follow growth strategy
Dijsselbloem reiterated the importance of economic growth as the only way to increase employment figures and effectively deal with the crisis. The Eurogroup discussed a comprehensive Greek growth strategy.
The leader of the task force for Greece, Horst Reichenbach, was invited to join the Eurogroup discussion on Tuesday. They agreed to support Greece in its intention to "develop a well-defined growth strategy, complementing the MoU (Memorandum of Understanding)."
Before the meeting, which took part in Athens, demonstrators were kept away from all parts of the city, including Syntagma Square, where recent anti-austerity protests occurred.
The latest Greek bailout €8.3bn installment is the last one awarded by the Eurozone. In mid-May, the IMF (International Monetary Fund) is expected to pay out a further €3.6 billion.
Optimistic outlook for Greek economy
There is renewed optimism regarding the Greek economy by politicians and economists throughout Europe. The country has managed to eliminate its deficit (except for the interest on its debt). Most analysts agree that after six years of recession, Greece should see solid economic expansion this year.
However, the country still faces immense challenges. Unions say Greek people have suffered terribly as a consequence of the measures the country had to implement under the bailout terms, which included cuts in pay and rising taxes. Unemployment stands at 27%.
Greek reforms facing growing opposition
According to public opinion polls, Prime Minister Antonis Samaras' New Democracy party stands neck-and-neck with the anti-bailout, far-left Syriza party ahead of May's European parliamentary elections.
ECB President, Mario Draghi, urged the Greek government to stick to reforms. Draghi said "The pain has been great….the benefits start coming. At this point in time, the thing not to do is unravel the fiscal adjustment, do not unravel the progress that with so much pain and so much effort has been achieved."
Video – Police clash with anti-Greek bailout demonstrators
Written by [google_authorship]