Are high-speed stock traders engaged in insider trading or manipulating the stock market by inciting others with false orders? This is what the FBI (US Federal Bureau of Investigation) is going to try to find out. Some regulators and investors have complained that high-speed stock traders have an unfair advantage.
The FBI is America's domestic intelligence and security service.
Insider trading refers to gaining an unfair advantage in the market by exploiting material non-public information – confidential information that the public does not have access to.
High speed trading or high-frequency trading (HFT) is a kind of algorithmic trading. The high-speed stock trader uses computer algorithms and sophisticated technological tools to trade securities at high speed. High-speed traders use proprietary strategies that are carried out by computers to move in and out of positions in miniscule flashes of time, literally fractions of a second.
One of the first companies to employ HFT, Algorates, based in Dorset, UK, relies on sophisticated computer systems and processing speeds of their trades to record high earnings.
In February, 2013, Eric Schneiderman, New York's attorney general, announced he was investigating companies involved in HFT.
FBI investing several high-speed trading activities
The FBI is looking out for any unusual or potentially illegal practices in a range of activities carried out by high-speed stock traders, including a trading method where a trader places a huge order for trades in a company's shares, but then cancels them – this gives the illusion of high activity in that company's stocks. This kind of activity could be classed as potential market manipulation by inciting other to trade based on false orders.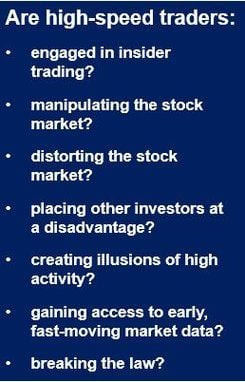 The FBI is also investigating into whether high-speed stock traders have access to early, fast-moving market information before other institutional investors, or whether a trading company is using high-speed trade to place orders to disguise the fact that the transactions are based on illegal insider information.
Do high-speed stock traders break the law?
The Wall Street Journal quoted an FBI spokesman who said "There are many people in government who are very focused on this and who are concerned about it and who think it breaks the law. There is a big concern that high-frequency traders are getting material nonpublic information ahead of others and trading on it."
Several US regulatory bodies have become increasingly concerned about the ability of high-speed trading firms to distort stock markets. As high-frequency trading grows, so does official concern.
Some people who are familiar with the recent investigations said the Commodity Futures Trading Commission and the Securities Exchange Commission are investigating the links between major exchanges and high-speed stock traders to determine whether they are receiving preferential treatment that places other investors at a disadvantage.
Many FBI agents involved
Several FBI agents have been tasked with investigating high-speed traders more deeply. They are particularly interested in finding out whether some brokers might trade on data about client orders before executing them, or perhaps use information about after-hours trading to be ahead of the market before it opens the next day.
Knight Capital, a New Jersey high-speed trading company, suffered a computer glitch in 2012 that triggered 150 erroneous orders to the NY Stock Exchange, which led to the firm losing nearly $440 million.
Since October 2009, the US attorney's office in Manhattan has charged 90 high-speed stock traders with insider trading – 79 of them have either been convicted or pleaded guilty.
Definition of a Trader – Video
This Market Business News video explains what traders do in simple and easy-to-understand language.