A GSK 105 million dollar settlement has been agreed with 44 US states and the District of Columbia for misrepresentations of its asthma drug Advair and anti-depressants Wellbutrin and Paxil. GSK (GlaxoSmithKline), however, did not admit any wrongdoing.
GSK has to extend its Patient First Program to March 2019 as part of the settlement. The program does not allow its sales representatives to receive commission, or doctors to do paid talks about its drugs or receive gifts for attending conferences.
"A significant penalty"
California's Attorney General Kamala D. Harris, said:
"Patient care is undermined when pharmaceutical companies promote uses for drugs that have not been approved by the FDA or pay medical professionals to promote certain drugs. This settlement requires GSK to pay a significant penalty and imposes strong new rules designed to prevent future misrepresentations of GSK products."
According to GSK, most of these incentive-limiting practices are already an integral part of company practice.
The Attorney General's office informed that a Complaint and Stipulated Judgment was submitted on Wednesday to the San Diego County Superior Court, claiming that the UK's largest pharmaceutical company violated state consumer protection laws by misrepresenting the uses and qualities of three drugs. It added that specifically, GSK shall not:
Make (or cause to be made) any oral or written claim that is deceptive, misleading or false regarding any GSK drug.
Make promotional claims (that the FDA has not permitted or approved) that a GSK drug is more effective, superior, or has fewer contraindications or side effects "than has been demonstrated by substantial evidence or substantial clinical experience."
Present favorably biased data or conclusions from a trial that is inadequate in design, scope, or "conduct to furnish significant support for such information or conclusions," when talking about a clinical study on GSK drugs in any promotional material.
Give free samples of GSK medications to health care professional who are unlikely to prescribe them for an approved use, but rather for an off-label use.
Unless consistent with applicable FDA regulations and its Guidance for Industry, distribute materials describing any off-label use of a GSK drug.
GSK amid a series of probes
Investors are becoming extremely concerned as the accusations of improper practices, bribery and corruption against GSK spread to a growing number of countries.
UK Serious Fraud Office
The UK's Serious Fraud Office (SFO) is carrying out an investigation into GSK's commercial practices. The SFO's Director has invited whistleblowers to provide any relevant information, describing them as vital sources of data in its cases.
Poland
A BBC TV program revealed in April 2014 that a number of doctors and a GSK regional manager had been charged with corruption.
Ex-sales representatives had been paid to promote Seretide (fluticasone/salmeterol), otherwise known as Advair in the US and Canada.
Jordan and Lebanon
In April 2014, an investigation was ordered in Jordan and Lebanon on the activity of some GSK personnel. According to a GSK spokesperson, "We started investigating using internal and external teams as soon as we became aware of the claims. We have zero tolerance for unethical or illegal behavior."
Iraq
Another investigation was ordered in April 2014 into allegations that GSK recruited 16 state pharmacists and doctors as paid sales representatives.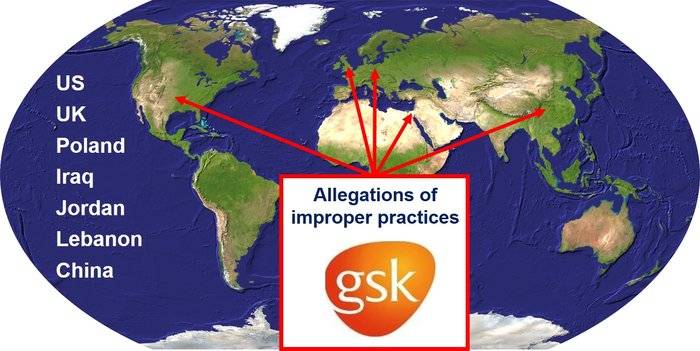 Seven countries so far. Are there any more? How much will the final settlements or penalties amount to?
A person familiar with GSK's operations in the Middle East had sent emails to the UK company reporting the illegal activities. According to the UK Bribery Act and the US Foreign Corrupt Practices Act, firms operating domestically are banned from bribing public officials and government employees abroad.
China
GSK was accused of bribing officials and a hospital doctor in China last year in an alleged price-fixing move. According to Chinese police, a GSK executive had ordered employees to bribe hospital officials to encourage them to use its medications.