A GSK Iraq investigation is underway, the British pharmaceutical giant announced Monday, less than a year after a probe into improper conduct in China. GlaxoSmithKline (GSK) is looking into allegations that it hired 16 state-employed pharmacists and doctors as paid sales representatives.
A GSK spokesman said:
"We are investigating allegations of improper conduct in our Iraq business. We have zero tolerance for unethical or illegal behavior."
According to emails reviewed by the Wall Street Journal, the allegations date back to 2012, and the improper acts continue today. A source familiar with Glaxo's Middle East operations sent emails to GSK late in 2013 and early 2014 reporting corrupt practices in Iraq.
Update: On may 28th, 2014, the Serious Fraud Office, UK, informed that it is investigating GSK's commercial practices. No details were given either by the SFO or GSK whether one or several incidents were being investigated.
GSK accused of bribery
According to this person, the improper practices are similar to those that allegedly occurred in China. In July, 2013, Beijing accused GSK of bribing officials and doctors in an alleged price-fixing deal. Some executives were detained.
The Wall Street Journal cites this, person who emailed GSK with the following words, "I believe GSK practices in Iraq violate the FCPA and the U.K. Bribery Act."
The emailer wrote that an emergency-room physician who worked for the Iraqi health service prescribed Glaxo drugs when a competitor's brand was in stock in the hospital's pharmacy but Glaxo products were not.
GlaxoSmithKline's head of compliance investigations wrote in response to the emails, "We have members from legal (internal and external), compliance, corporate security, and [anti-bribery and corruption] working on this as a team with the full support of the corporate executive team and board members," the Wall Street Journal says.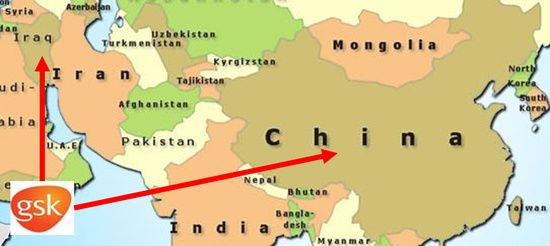 First a corruption probe in China in 2013, now another one in Iraq. Are there any more?
In an interview with Compliance Week, Mary Anne Rhyne, GSK's director of U.S. external communications, said the company has fewer than 60 employees in Iraq. "However, we are investigating whether there has been any improper conduct, and these investigations are ongoing."
Regarding the company's sales and marketing practice reforms, Rhyne added "…we are also stopping the practice of paying doctors to speak on our behalf. We believe these changes will eliminate any perception of conflict of interest and ensure incentives for our employees are aligned with the best interests of patients."
Written by [google_authorship]