After jumping to a post-recession high in July, housing starts plummeted -14.4% in August, showing how fragile and haphazard the state of US home construction is. At a seasonally adjusted annual rate, a total of 956,000 homes were built in August, according to figures published by the US Census Bureau today.
Building associations explain that part of August's decline was due to July being so strong, when home building jumped by 22.9% (1.12 million units), the highest level in nearly seven years, according to revised figures.
The number of privately-owned housing units authorized by building permits declined by -5.6% to 998,000 in August, compared to an 8.6% increase in July to 1,057,000, suggesting that future construction activity is going to continue weak.
There was a -32% decline in the construction of multifamily units, i.e. apartment buildings and condominiums, in August, while single-family units dropped by -2.4%. Single-family units represent over 60% of the market.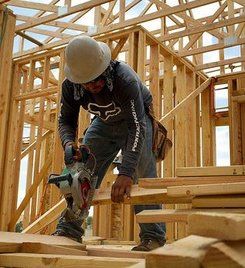 Figures suggest housing starts will remain subdued.
Pending home sales up
The National Association of Realtors (NAR) reported today that July saw a rebound in the sale of pending homes. All major regions in the US except for the Midwest experienced healthy gains.
Pending homes sales refers to homes where a contract is signed but the sale has not yet closed. The Pending Home Sales Index gives us an indication of future contract signings.
July's Pending Home Sales Index rose 3.3% to 105.9, compared to 102.5 in June. However, it is still below the 108.2 registered in July 2013. The index is currently at its highest level since August 2013.
The Index has been above 100 for three successive months. Any reading above 100 suggests above-average activity.
NAR's chief economist, Lawrence Yun, said:
"Interest rates are lower than they were a year ago, price growth continues to moderate and total housing inventory is at its highest level since August 20121. The increase in the number of new and existing homes for sale is creating less competition and is giving prospective buyers more time to review their options before submitting an offer."
"More importantly, steady job additions to the economy are helping family finances and giving them added confidence to enter the market."
The Pending Home Sales Index (PHSI) in the Northeast increased by 6.2% to 89.2 in July, and is currently 8.3% higher than one year ago. In the Midwest it declined by -0.4% to 104.6, and is 6.4% below July 2013.
In the South, the PHSI rose 4.2% to 119, while in the West it increased by 4% to 99.5%.
Mr. Yun forecasts that existing-home sales will be -2.1% down this year to 4.98 million, compared to 5.09 million last year.