HSBC announced that it will be cutting a total of 25,000 jobs worldwide, of which 8,000 will be in the UK.
The bank said that it will also be rebranding its high street operations in Britain.
The job cuts and restructuring efforts are part of the company's global overhaul to ­increase profitability and cut costs.
Its total full-time workforce will be reduced by around 10% as a result.
HSBC said that it plans on selling its operations in Turkey and Brazil, but will "maintain a presence in Brazil to serve large corporate clients with respect to their international needs."
The company is targeting annual cost-saving initiatives of $4.5-5.0 billion by 2017, with "estimated costs to achieve these savings of USD 4.0-4.5bn over that period."
In a statement Stuart Gulliver, Group Chief Executive, said:
"HSBC has an unrivalled global position: access to high growth markets; a diversified
universal banking model with strong funding and a low risk profile; and strong internal capital generation with industry leading dividends.
"We recognise that the world has changed and we need to change with it."
The 'universal banking model' refers to having retail, wholesale, and investment banking services under the same roof.
The company outlined ten strategic actions that it will employ: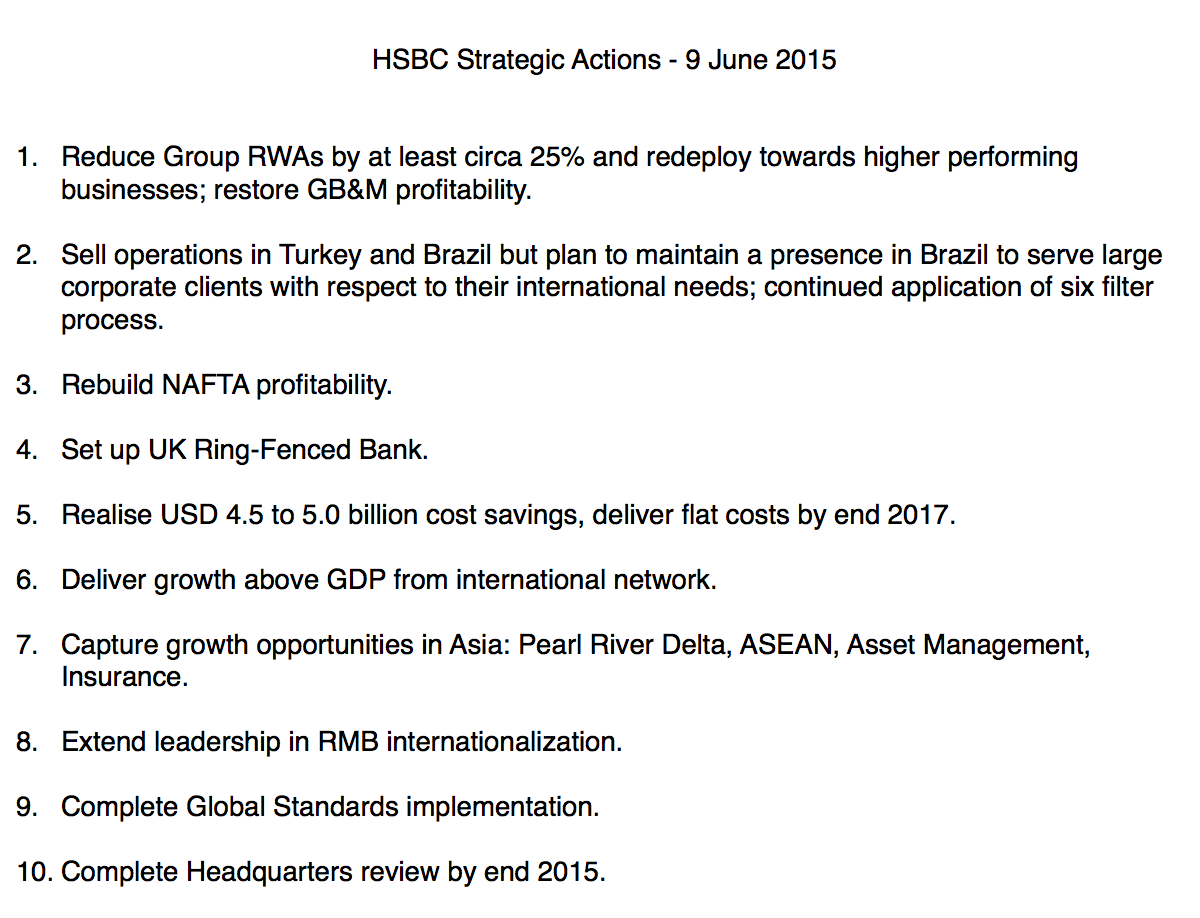 Source: "HSBC Investor Update – Actions to capture value from our global presence in a changed world"
Gulliver concluded:
"The world is increasingly connected, with Asia expected to show high growth and become the centre of global trade over the next decade. I am confident that our actions will allow us to capture expected future growth opportunities and deliver further value to shareholders."
Will HSBC move its HQ out of the UK?
By the end of the year HSBC will decide whether it will move its headquarters out of the UK.
The bank has faced surging costs associated with being domiciled in the UK. Iain Mackay, finance director of HSBC, recently criticised the bonus tax in Britain.
Given the company's recent focus on Asian markets, many expect the bank to move its HQ to Hong Kong.