London-based banking giant HSBC published a giant "SORRY" in several UK Sunday newspapers, offering its "sincerest apologies" for helping clients dodge tax at its Swiss private bank.
In an open 'Mea Culpa, Europe's biggest financial institution admitted not complying with regulations in its Swiss unit after newspapers reported that it had helped more than one hundred millionaires hide millions of dollars' worth of assets before the financial crisis (up to 2007).
On February 25th, HSBC's Chairman Douglas Flint and Chief Executive Stuart Gulliver will have to give evidence before the parliamentary Treasury Committee.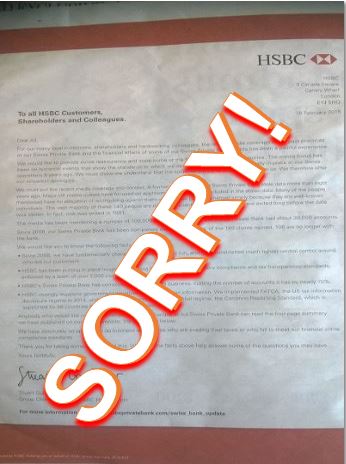 HSBC's open apology appeared in most British Sunday newspapers.
Mr. Gulliver said on Sunday's public apology that the reports regarding the bank's past activities in Switzerland had been a "painful experience" for its staff, shareholders and customers.
Mr. Gulliver wrote:
"We must show we understand that the societies we serve expect more from us. We therefore offer our sincerest apologies."
Mr. Gulliver insists that since 2007 HSBC has established much more stringent controls on who it accepts as customers. He added that nearly most of the 140 individuals named in reports as customers of its private Swiss bank had left.
Mr. Gulliver added:
"We have absolutely no appetite to do business with clients who are evading their taxes or who fail to meet our financial crime compliance standards."