What would you do if you saw a huge monitor lizard hanging onto your front door, trying to break into your house? This is exactly what happened to Attanai Thaiyuanwong, who lives in the Samutprakarn province in Thailand. Locals say the creatures – which are almost entirely carnivorous – commonly seek out pet dogs as their prey
Mr. Thaiyuanwong (24) videoed the giant lizard and posted the footage of his encounter on Facebook.
On the video, which has gone viral – it has been viewed and shared online multiple times so that a large number of people across the world have seen it – you can see Mr. Thaiyuanwong and family trying to move the animal out of their house.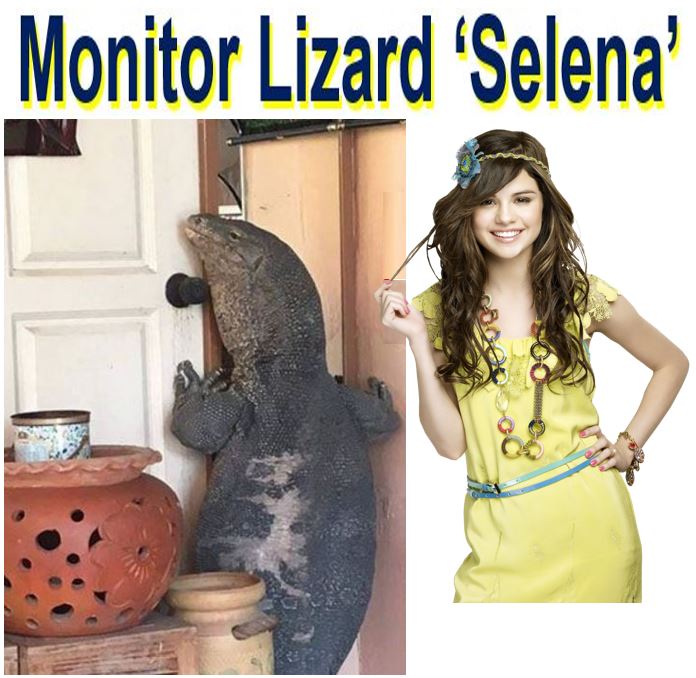 The monitor lizard trying to get into a house. It is called 'Selena', after the American singer and actress (right) Selena Gomez. Do you think Selena the singer will feel flattered that the creature was named after her?
The monitor lizard can be seen slapping a glass door with its powerful tail. Mr. Thaiyuanwong said that each time the creature – which is about the size of the door – swung its tail, his children screamed.
Lizard nicknamed Selena
Monitor lizards can reach up to 90kg (200lbs) in weight. This video has created a new fear among people who live nearby. Thai website Coconuts Bangkok sent somebody down to investigate.
---
---
Apparently, Mr. Thaiyuanwong said that it was not the first time this particular giant lizard had tried to break into his home. In fact, it has swung by so many times that they have given it a nickname – Selena – after the American actress and singer Selena Gomez.
In an interview with Coconuts Bangkok, Mr. Thaiyuanwong said:
"It [monitor lizard] is here all the time. There are even bigger ones! We call it Selena after the celebrity my sister likes, because we don't want to say the word 'hia' in our home."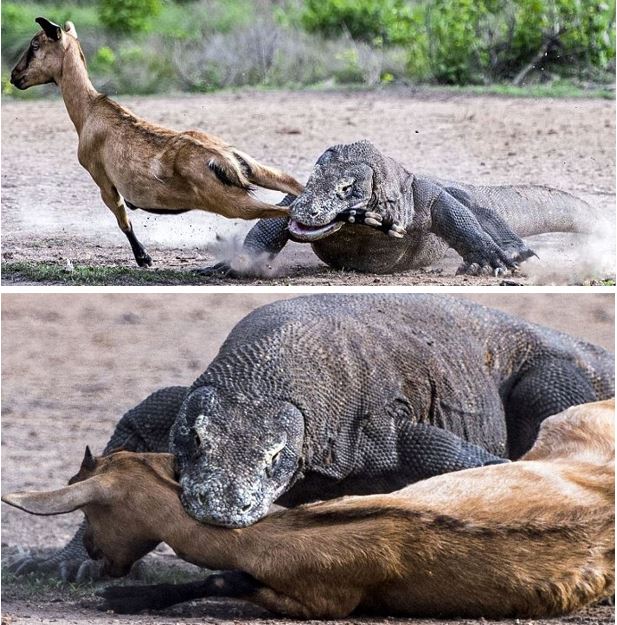 A monitor lizard hunting and catching a goat. They are excellent hunters. Their short powerful limbs are armed with strong claws which they use both for digging and climbing.

If this giant lizard has the nickname Selana, one wonders what the other larger ones are called.
Lizards were there first
Mr. Thaiyuanwong lives near a mangrove forest off Sukhumvit road in Samutprakarn province, a central Thai province on the Gulf of Thailand just south of Bangkok. He explained that the lizards have been living there long before he or other humans moved in.
---
---
Family members say that Selena has lots of babies and they have grown accustomed to them. However, they added that they are not close to the creatures at all.
Mr. Thaiyuanwong said:
"Humans have invaded the animals' habitats, so now they don't know where to go. Not having a home is sad enough, and humans still try to get rid of them. Let's say we can all live together as long as we don't hurt one another."
Although not chummy with the lizards, Mr. Thaiyuanwong clearly cares about them and does not believe they should be hunted and either chased out of their habitat or killed.
That does not mean, he stressed, that when you see one you should try and make friends with it by luring it into your house with tasty morsels of food.
Eventually they managed to move the lost lizard away from their front door and back to the forest.
Video – Monitor lizard tries to break into a home
This video of a monitor lizard in Thailand trying to get into a person's house through his front door gives an entirely new notion to the term 'breaking and entering'.