Human aggression probably helped our ancient ancestors survive, said Professor Stephen Hawking, but today it is the human race's biggest flaw and "threatens to destroy us all", he warned.
The British cosmologist, theoretical physicist, author and Director of Research at the Centre for Theoretical Cosmology within the University of Cambridge, urges humans to become more empathic.
Professor Stephen Hawking said this at the Science Museum as he gave a tour to Adaeze Uyanwah, a Californian who came first in an international competition organized by VisitLondon.com to win a trip to London.
Ms. Uyanwah, a teacher and creative writer, won the tour after creating a blog and video describing a "perfect day" in London. (Image: VISITLONDON.COM)
Prof. Hawking said:
"The human failing I would most like to correct is aggression. It may have had survival advantage in caveman days, to get more food, territory or a partner with whom to reproduce, but now it threatens to destroy us all."
"A major nuclear war would be the end of civilization, and maybe the end of the human race."
Empathy on the other hand, "brings us together in a peaceful loving state," he added. It is the human quality he would most like to expand.
When asked about the movie The Theory of Everything," in which Hawking is played by Eddie Redmayne, Prof. Hawking said he was was pleased to see that his official synthesized voice helped the actor in his efforts to win an Oscar. "Unfortunately Eddie did not inherit my good looks," he joked.
"Something I'll never forget"
London's Official Guest of Honour, Ms. Uyanwah, who beat more than 10,000 contestants to win the prize, said:
"It's incredible to think that decades from now, when my grandchildren are learning Stephen Hawking's theories in science class, I'll be able to tell them I had a personal meeting with him and heard his views first hand. It's something I'll never forget."
Prof. Hawking believes humankind's future depends on its abilities to explore space. The landing on the Moon gave us perspectives of live on Earth, and if we are to survive this outlook must develop, he added.
Human space exploration is the human race's "life insurance", Prof. Hawking explained, and it must continue.
Prof. Hawking said:
"Sending humans to the moon changed the future of the human race in ways that we don't yet understand."
"I believe that the long term future of the human race must be space and that it represents an important life insurance for our future survival, as it could prevent the disappearance of humanity by colonising other planets."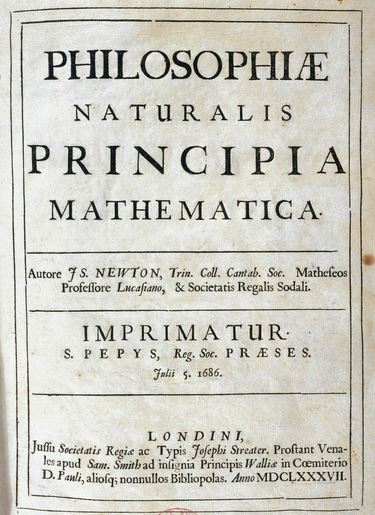 A rare copy of a copy of Newton's Principia Mathematica (Image: VISITLONDON.COM)
Other highlights of Ms. Uyanwah's two week trip include tea with Downton Abbey actor Jim Carter at Lords Cricket Ground, the opportunity to appear as part of the cast of Mamma Mia! in the West End, a guided tour of the Royal Opera House with former ballet dancer Darcey Bussell, a shopping spree down Oxford Street with Glamour editor Jo Elvin, and a fashion photoshoot with Fenton Bailey.
Prof. Hawking showed Ms. Uyanwah some of the Museum pieces that hold special significance for him, including a copy of Newton's Principia Mathematica, a portrait of him by David Hockney produced in an iPad. "I'm still not quite sure about the fingers," he commented on the portrait.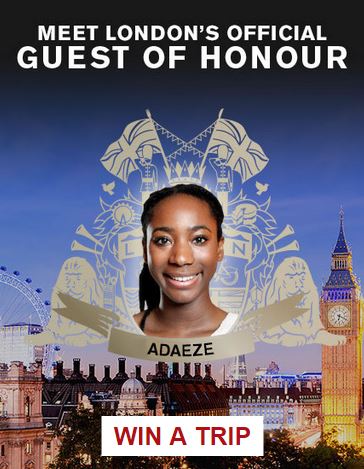 Adaeze Uyanwah beat 10,000 international competitors to become London's Guest of Honour (Image: VISITLONDON.COM)
At the end of the tour, Prof. Hawking said to Ms. Uyanwah:
"I hope that the objects and galleries you see here today will help remind you, as they did me years ago, to try to make sense of what you see and hold on to that childlike wonder about what makes the universe exist. Look up at the stars and not down at your feet."
You can enter now if you want to win the chance to be the London Guest of Honour.