Hurricane Ophelia is making its way up the Atlantic and will batter Ireland and parts of the UK on Monday. The Met Office warns that severe winds will strike northern England, Scotland, many parts of Northern Ireland, and Eire.
However, hurricane Ophelia will be weaker than it is now when it hits the British Isles. In fact, it will be an ex-hurricane.
As hurricane Ophelia, which is now a Category 3 storm, moves northwards, it will lose strength.
The seas of northern Europe are considerably colder than in the Caribbean and Gulf of Mexico. For a hurricane to gain strength, the sea needs to be warm. Put simply; cold water weakens hurricanes, while warm water makes them stronger.
However, that does not mean that the British Isles are out of danger. Eighty-mile-an-hour gales will batter Ireland and the UK on Monday. Strong gales can be dangerous.
Hurricane Ophelia, or ex-hurricane Ophelia, will still be able to knock down trees. Some of its gusts could also cause flying debris to pose a danger to human life.
Hurricane Ophelia triggers Yellow wind warnings
The Met Office has issued Yellow wind warnings for parts of northern and western Britain and Northern Ireland for Monday. There is also a warning for Tuesday.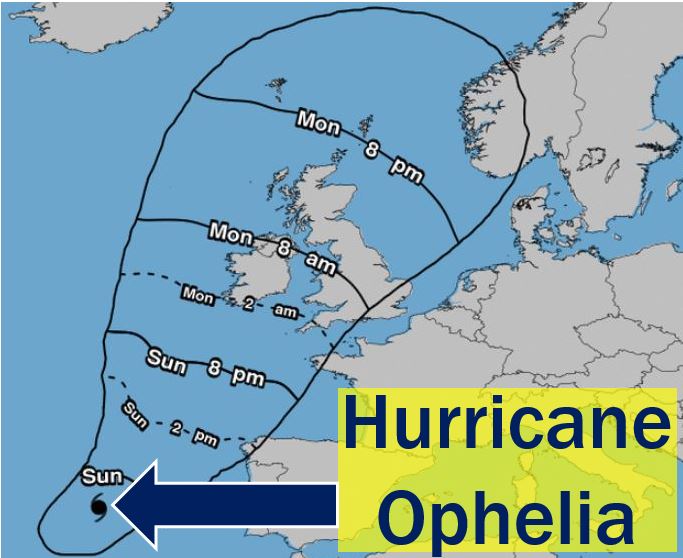 Seve Ramsdale, Chief Forecaster at the Met Office, said:
"Although parts of the UK may experience severe conditions, it's important to realise that not all areas will be affected by this ex-hurricane."
"For example, much of eastern England will be unusually warm for the time of year but quite breezy on Monday and Tuesday."
Hurricane Ophelia brings warm air
Over the weekend, parts of England will become increasingly warm. In fact, southern and eastern England should expect temperatures higher than 20 °C on Monday. Some places may even see their thermometers reaching 24 °C or higher.
Temperatures above twenty centigrade in October in the UK are extremely unusual. At this time of year, the average is about 14 °C.
---
Translation of tweet below: "Animation of Ophelia for history. Never before has such a strong hurricane been registered in this part of the Atlantic Ocean."
¡Animación de #Ophelia para la historia! 🌀 Nunca antes se había registrado un #huracán tan fuerte en esta zona del Océano Atlántico. pic.twitter.com/ZV0P8nW2YJ

— MeteOrihuela (@MeteOrihuela) October 15, 2017
---