Indian GDP growth slowed to 4.7% in the last quarter of 2013, according to the country's Central Statistics Office.
Economists had been expecting a much higher figure. A Reuters poll of economists had expected 4.9% growth.
During the previous quarter GDP (gross domestic product) had expanded by 4.8%.
In the last quarter of 2012 Indian GDP growth had been 4.5%. This is the fifth successive quarter of growth below 5%.
7% of 8% Indian GDP growth needed
Thirteen million people enter the workforce in India each year. For enough jobs to be created for them the economy needs to expand by about 7% to 8%, as it did a couple of years ago. Over 50% of India's 1.2 billion people are aged under 25 years.
Manufacturing performed particularly badly, declining 1.9% compared to the same quarter in 2012. Manufacturing is a major employer in India. Considerable growth was reported in transport utilities and hotels.
A slowdown in agricultural growth was the main contributor to the last quarter slowdown. Agriculture grew by 3.6% compared to a 4.6% rise in the previous quarter. Most analysts had expected an increase of at least 5%.
Rising interest rates hurt manufacturers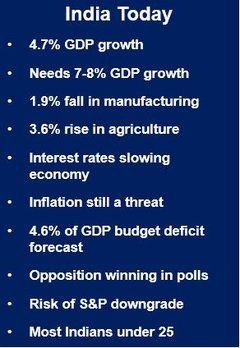 The Reserve Bank of India increased interest rates three times from September 2013 to January 2014, raising borrowing costs for manufacturers. The aim was to bring down persistent inflation. Unfortunately, the growing inflation threat still looms as economic growth slows down.
India's economy is mainly driven by domestic demand. Most economists expect Indian GDP growth to remain sluggish and uneven in 2014.
Reuters quoted Sujan Hajra, chief economist at Anand Rathi in Mumbai, who said:
"This does not give much confidence. This is disappointing, but in line with the trend for past several quarters."
On February 17th, Finance Minister Palaniappan Chidambaram forecast a budget deficit of 4.6% of GDP for this fiscal year, lower than a 4.8% previous target.
Indian elections in April/May
Disappointing Indian GDP growth will likely contribute to Prime Minister Manmohan Singh's defeat in the April/May general elections. Singh wanted to fast-track approvals for $80 billion in infrastructure investments last year. However, implementing them has been patchy, and the projects that were approved do not appear to have had any effect.
Accelerating GDP growth, economists say, depends on whether the elections can bring about a stable coalition with concrete aims.
According to opinion polls, Manmohan Singh's Congress party, which is being led in the current campaign by Rahul Gandhi, is trailing the main opposition Bharatiya Janata Party, led by Narendra Modi, the pime ministerial candidate.
Pollsters say the opposition would win 217 out of 543 seats in the lower house, which would be the largest chunk among the competing parties but not a majority.
Last November, Standard & Poor's said India's credit rating could be downgraded if the elections do not produce a government with clear aims.
In an interview with Bloomberg Businessweek, Indranil Sengupta, an economist in Mumbai at Bank of America Merrill Lynch, said "The growth outlook going forward will hinge on the policies of the new government and global growth. A fragmented election outcome may make it difficult to deliver on fiscal consolidation and boost growth."
Video – India's economy, the road ahead