Although the retirement outlook has improved slightly for many full-time American employees reaching the end of their careers, it is still beyond the reach of a sizable number of workers. Fifty-eight percent of workers aged at least 60 say they have had to postpone their retirement, but a lower figure than 61% in 2013 and 66% in 2010.
Harris Poll carried out a nationwide survey on behalf of CareerBuilder from November 6th to December 2nd, 2013. A total of 433 full-time employees, all aged 60+ were interviewed, as well as 2,201 human resources and hiring managers.
According to the survey, 10% of employees aged 60+ said they do not think they will ever be able to retire, a similar figure to the 11% at the beginning of 2013. Fifty percent expect to retire within the next four years, compared to 47% in the previous survey.
Brent Rasmussen, president of CareerBuilder North America, said:
"While achieving a secure retirement is still a challenge for many in the workforce, the survey points to some positive trends. retirement funds rebound and the economy improves, fewer workers are delaying retirement than at the height of the recession."
"Additionally, more workers expect to be able to retire without having to pick up a part time job to supplement their incomes, and even if they are looking for work, more employers are actively recruiting within this age group than in past years."
Working after retirement
A smaller number of American workers today are planning to take on full- or part-time employment after retiring from their current job. Only 45% say they will look for post-retirement work, compared to 60% in the last survey.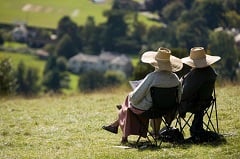 CareerBuilder says this could be "a sign mature workers are gaining more confidence in their finances as retirement nears or that better access to health insurance is lessening the need to work before reaching Medicare eligibility."
A larger proportion of people working in customer service, retail or consulting have plans to work post-retirement.
Retirement plans differ among males and females
Women and men have widely differing retirement plans. Seventy-one percent of women are planning to delay retirement, a much higher figure than the 49% for men.
Eighteen percent of females aged sixty years or more think they will never be able to retire, compared to just 7% of men.
Retirement outlook – why the delay for some?
The most significant obstacles to retirement are economic ones. However, in a relatively high number of cases people also choose to retire later, the survey found.
Below are the main reasons people retire later, according to the survey:
79% cannot afford to retire for financial reasons.
61% need health insurance/benefits.
46% are happy where they work.
27% fear becoming bored during retirement.
Companies targeting older workers
The survey reported that 53% of employers plan to take on workers aged 50+ in 2014, compared to 48% in 2013.
Thirty-four percent of all employers reported having received applications from applicants aged 50+ for entry-level positions.
The majority (77%) of employers say they would consider interviewing a mature worker for a job they are overqualified for, and only 9% say they would not because they would ask for too much money.
According to a study carried out at the University of Missouri, Americans are putting less and less money aside for retirement.