Multinational chemicals company Ineos Group Limited is about to announce a $1 billion investment plan to explore and produce shale gas in the United Kingdom, according to media rumors sparked off by the BBC on Thursday.
The Swiss-based, London-registered company wants to use the gas as a raw material for its chemicals plants, including those in Stirlingshire and Grangemouth.
Ineos believes that its loss-making plants, such as Grangemouth, could become profitable with shale gas.
Shale gas is a natural gas that is trapped within shale formations. It has become an increasingly important source of energy in the United States. Interest in shale gas has spread to several countries across the globe.
To get the shale gas out, a technique known as hydraulic fracturing or fracking is used, in which chemicals and water are pumped at very high pressure into shale rock.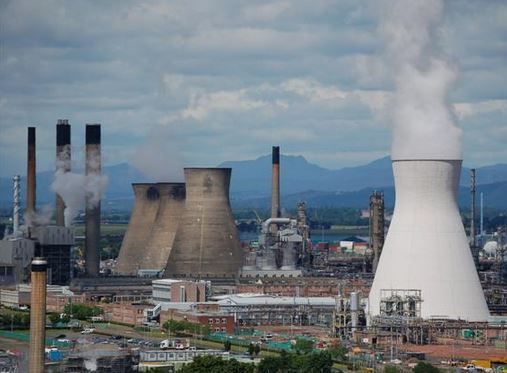 Part of the Grangemouth petrochemical plant in Scotland. Ineos believes that with shale gas it could make a profit.
Critics are concerned that shale gas exploration and extraction may contaminate water, trigger earthquakes, and harm the environment.
Ineos is building Europe's biggest shale gas import facility in Grangemouth to feed its plants. It now wants to produce shale gas in the UK.
The company has been buying up rights around its Stirlingshire site in the Midland Valley with the aim of exploring for shale gas.
According to the BBC, Ineos will unveil a massive investment plan for the UK on Thursday.
Ineos bought a stake in a shale oil & gas license in Scotland. The company said in September that it would pay a share of revenues from any production to local residents, landowners and communities.