Semiconductor chip maker Intel Corp. announced on Monday it had bought Montreal-based PasswordBox, a digital life manager that allows people to store, retrieve and share passwords and other personal information on any device.
Put simply, PasswordBox allows users to log into applications or websites from any device without having to remember their passwords or usernames.
Neither company disclosed how much was paid for the start-up business. Intel wrote in a statement "Terms of the transaction were not disclosed and are not material to Intel's operations."
The Intel Security Group aims to make PasswordBox part of its plan to strengthen and simplify security by reducing the needs for users to have to remember a load of passwords.
Intel bought McAfee Inc. in 2011 for $7.7 billion and rebranded it as Intel Security Group. PasswordBox' technology will be integrated into Intel Security Group's offerings.
PasswordBox has registered 14 million downloads this year so far. It won best mobile app at the Las Vegas tradeshow CES.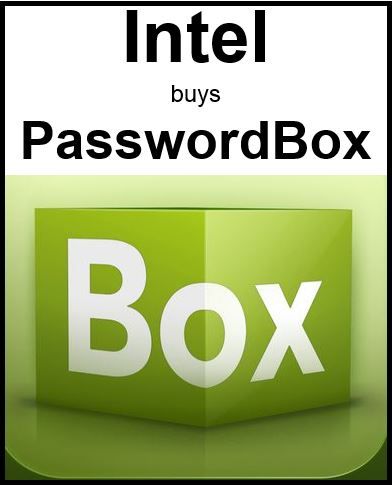 PasswordBox' technology will help Intel's customers cope with password and username problems.
PasswordBox was founded in 2012 and raised $6 million from several investors, including Facebook's Lee Linden and Omers Ventures.
Intel's purchase of PasswordBox has already taken place. All PasswordBox' forty-eight workers are now employed by Intel Security Group, Intel informed.
According to Intel, the acquisition will support future innovations, which will be "announced at a later date."
PasswordBox staff on the day Intel's acquisition was announced.
Passwords and usernames, a growing headache
Secure passwords are vital to protecting confidential or personal data. A recent Deloitte study found that over 90% of user-generated passwords are vulnerable to hackers.
In 2013, Experian reported that the average person had 26 password-protected online accounts, but used only five different passwords. Thirty-seven percent of users surveyed said they had sought help because they had forgotten either their password or username. PasswordBox' applications can help address these problems.
Referring to the acquisition, said Chris Young, senior vice president and general manager of Intel Security Group, said:
"Everyone can relate to password fatigue. The PasswordBox service has already brought relief to millions of consumers who now enjoy simple, instant login. Intel Security and PasswordBox share the same goal of improving digital identity protection across all devices and platforms. We believe we have the technology, expertise and reach to bring simple, secure access to consumers worldwide."
Daniel Robichaud CEO and co-founder of PasswordBox, Daniel Robichaud, said:
"PasswordBox has spent the last two years building a product that people love, trust and use around the world every day. We share Intel Security's vision of simple, secure access and identity protection across all platforms and devices. Together, we believe we can offer our customers world-class technology, expertise and support to bring such access anywhere – all backed by Intel."