The Bank of England's chief economist, Andy Haldane, said that when interest rates start to rise, the increases will be tiny and very spread out – probably about half-a-percent per year for several years.
In an interview with the Daily Post, Mr. Haldane said:
"We are in no rush to raise rates, the recovery is taking hold nicely. The last thing we want to do is knock the stuffing out of that."
"They are historically low and they won't stay like that forever but when that rise comes it is going to be very gradual. It could be half a percent a year for several years."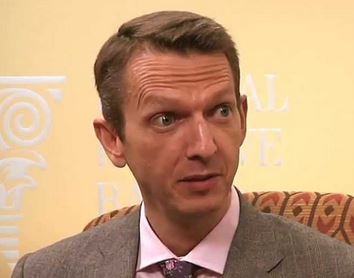 Andy Haldane is Chief Economist and the Executive Director of Monetary Analysis and Statistics at the Bank of England.
The UK's official bank rate has been at its record low 0.5% since March 5th, 2009.
BoE's Monetary Policy Committee member Haldane said he and his colleagues did not foresee interest rates returning to their record-high levels of two and three decades ago.
When rates have finished their gradual rises in a few years' time, Haldane predicts the new normal will be two, three or even maybe four percent, but not higher.
MPC member Kristin Forbes warned on Monday that interest rates could well increase sooner than most people expect, especially if inflation picks up strongly after its recent decline. Annual inflation in December fell to 0.5%, from November's 1%.
Haldane says the British economy is experiencing good, resilient growth.
Low rates may not last, Carney warns
At the World Economic Forum summit at Davos, Switzerland, Marc Carney, the Governor of the Bank of England, warned that the current record-low interest rates may not last as long as investors may think.
Mr. Carney said Britain's central bank is watching wage hikes closely. UK pay has failed to keep up with inflation for several years, despite its GDP growing faster than that of any other advanced economy in 2014.
Recently, however, wage increases have started to accelerate and economists expect growth will speed up in order to make up for years of stagnation.
Mr. Carney said "One word on the UK – is that we have a very low inflation environment right now largely caused by commodity prices and an ability to look through that. We have the means, the responsibility and the will to return inflation back to target in the two-year horizon."
Earlier this month, economic forecasting group the EY ITEM Club predicted that UK inflation would remain below 1% for most of this year.