Bank of England hawk Ian McCafferty says interest rates should rise sooner rather than later as UK wages reach a potential "turning point". Mr. McCafferty along with Martin Weale have voted for moderate interest rate increases in the last four Monetary Policy Committee (MPC) meetings, unlike the other seven who chose to keep them unchanged.
Mr. McCafferty believes there is less slack left in the labor market than the Bank of England suggests, a factor which will put earlier pressure on wage growth.
We need to "start sooner rather than later," Mr. McCafferty believes, otherwise more abrupt interest rate rises later on will be bad for business and consumer confidence. He suggests the Bank of England should start now with "limited and gradual" rate rises.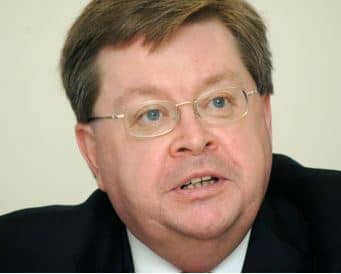 Ian McCafferty fears the Bank of England's reluctance to hike interest rates is stoking inflation.
The MPC hawk pointed to a 1.6% increase in average weekly earnings for the three-month period ending in September, which was higher than the 1.2% headline inflation rate. He believes this is likely to be "the turning point we have been waiting for."
Wages have risen less than inflation for the past four years. The Bank of England (BoE) has kept interest rates at 0.5% for 5.75 years.
---
---
Mr. McCafferty warned in a speech to business people in Liverpool:
"Domestic pricing pressures may be less dormant than we think, and might surprise us faster than we expect."
Mr. Weale and Mr. McCafferty urge the MPC to look beyond the current low level of inflation, which has been driven in part by declining oil prices.
The BoE said in November that it expects inflation to return to its 2% target in about three years' time. It emphasized it was comfortable with the view in the market that rates would not increase until the second half of 2015.
Mr. McCafferty warned that the UK's low rate of productivity growth might take a while to pick up. Productivity growth, he added, is vital for the country's economy to grow without overheating.
It would only take a tiny increase in demand to use up whatever slack there is in the economy, he said.
Update Oct 8, 2015: Mr. McCafferty has continued to be the lone hawk of the Monetary Policy Committee. In their October 6th meeting, he was the only member to vote against keeping the Bank Rate at 0.5%.