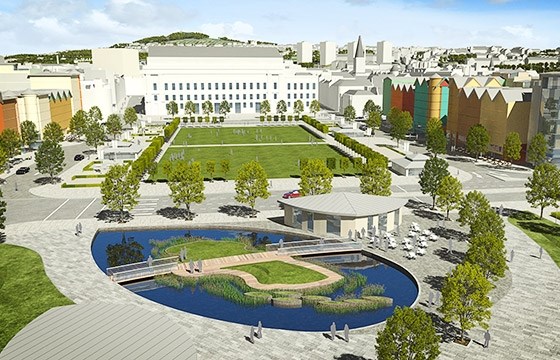 Investment in Dundee's waterfront redevelopment project has reached £600 million.
Its latest round of funding will be used to develop the V&A design museum, a brand new railway station, a Hilton hotel and blocks of flats.
The project is expected to bring in £1bn in investment over a period of three decades.
Mike Galloway, Dundee's director of city development, said that there is increasing interest from local, national and international investors.
Mike Galloway, said: "We are delighted at the interest being shown in the business potential on offer in the waterfront area.
"We are keen to encourage sustainable, design-led development that reflects Dundee's status as the UK's first Unesco City of Design.
"Most of the land in the central waterfront is owned by Dundee City Council, so we can work in partnership with investors and take a long-term holistic approach to development.
"We are also open to joint ventures so would encourage businesses and entrepreneurs to contact us with their concepts."
Dundee City Council and Scottish Enterprise are a series of roadshows in Scotland next month to attract more investors.
The vision for the Waterfront is: "To transform the City of Dundee into a world leading waterfront destination for visitors and businesses through the enhancement of its physical, economic and cultural assets."
Dundee City Waterfront encompasses 240 hectares of development land stretching 8km alongside the River Tay. It is split into five focussed zones: Riverside; Seabraes ;The Central Waterfront, City Quay and Dundee Port.