Jack Ma (in Chinese Ma Yun 马云), born September 10th, 1964, is today a Chinese mogul. He is Executive Chairman of a company – Alibaba Group – that does more business online than eBay and Amazon.com combined. And he is rocking the New York Stock Exchange in China's most famous IPO (initial public offering).
Jack Ma is the first person from mainland China to appear on the cover of Forbes magazine.
Mr. Ma was born in Hangzou, Zhejiang Province in mainland China. His parents were professional Pingtang performers (Pingtan is a genre of musical storytelling).
Boy who wanted to learn English
From a very young age (12) Jack Ma wanted to learn English, so he cycled 40 minutes every morning, come rain or snow, to a hotel near the city of Hangzhou's West Lake district where he could have the opportunity to chat to foreigners.
He would offer himself as a free-of-charge guide and show them around the city, just to practice and improve his English.
Jack Ma (left) with his brother and sister.
He noticed that what he learned from his books and teachers was quite different from what the foreign visitors would tell him.
Australian friends changed his life
In 1979, he met an Australian family with two kids – an event he says fundamentally changed the direction of his life. They spent three days together and played with Frisbees a lot, he remembers. They became pen pals. Six years later they invited him to visit Australia for a summer vacation. He went in July and had the most fascinating 31 days.
Before leaving China he had been taught to believe that China was the richest, happiest country anywhere on earth. So, from the moment he landed in Australia and had a chance to see how comparatively rich the country was compared to his, he started thinking differently.
He was eventually admitted to the Teachers Institute, known today as Hangzhou Normal University, after failing the entrance exams twice. In 1988, he graduated with a bachelor's degree in English. He became student chairman at the Institute.
Mr. Ma was just one of 500 students asked to teach at the university. He earned the equivalent of about $12 to $15 per month. His dream had been to join a business, perhaps a hotel, after graduating.
In 1992, China's business environment started to improve significantly. He applied for several jobs, but without success. He even applied for the job as secretary to the general manager of Kentucky Fried Chicken, but was turned down.
Sees the Internet in Seattle
During an interpreting assignment in Seattle in 1995 for a trade delegation, he saw the Internet for the first time. He searched in Yahoo using the word Beer, and then found that there was absolutely nothing in there about China. So, he decided to launch a website called China Pages.
He set up the business with a $2,000 loan. He knew nothing about the online world, PCs or emails. In fact, he had never even touched a keyboard. He remembers describing himself as a "blind man riding on the back of a blind tiger."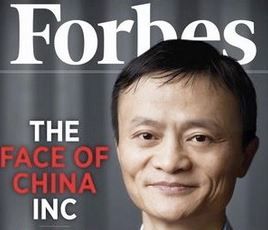 The first person from mainland China to appear on the cover of Forbes.
For a year he competed with China Telecom, whose general manager eventually approached him with a proposal for an $185,000 joint venture. He had never dreamed so much money could exist. In the deal, China Telecom got 5 board seats while he only got two, meaning that everything he and his people suggested was either ignored or turned down. He resigned, describing the situation as "an elephant and an ant."
He was then offered a job running a new government group promoting e-commerce in Beijing.
Alibaba is born
In 1999, he gathered 18 friends and colleagues in his apartment and explained his dream – to set up his own e-commerce business. They all got their wallets out and he added it up – $60,000 to start Alibaba.
He wanted the company to be a worldwide one, hence the name Alibaba, easy to spell, pronounce and linked to "Open Sesame", Ali Baba's command that opened the doors and gave him access to the hidden treasure in the story One Thousand and One Nights.
He believes the business survived during the initial years and then thrived because:
Every dollar they had was cherished and used with the utmost care. The office started off in his apartment. In 1999, they raised money with Goldman Sachs, and then in 2000 with Softbank Corporation. Eventually Yahoo invested too.
Jack Ma, today, a multi-billionaire floating his company on the New York Stock Exchange.
He calls Alibaba "1,001 mistakes." The business grew too rapidly, during the dot-com bubble people had to be laid off. By 2002, cash was short and the business only had enough to last 18 months. Many free members were using the website and they had no idea how to monetize it.
They developed an online system that Mr. Ma says saved them, whereby Chinese exporters could meet American buyers. By the end of 2002 Alibaba posted profit of $1. Each year things slowly got better.
Today Alibaba is one of the largest online companies in the world, some say the biggest.
Mr. Ma's advice to people with small businesses who are just starting is "rely on your brain, not your strength!"
Despite having a tech giant, Mr. Ma is in no way tech-savvy. Unlike Microsoft's Bill Gates, Apple's Steve Jobs, and Facebook's Mark Zuckerberg, he has no background in computing. He was trained to be an English teacher and knows nothing about technology. Apparently, all he uses his computer for is browsing and sending/receiving emails.