Jaguar Land Rover's CEO, Prof. Dr. Ralf Speth, urged the British Government to provide certainty for businesses in post-Brexit Britain. In other words, companies want the future to be predictable. Businesses need frictionless, tariff-free trade with the European Union, he added.
Brexit stands for BRitain EXITing the European Union. In 2016, Britons voted for Brexit, i.e., they voted to leave the EU. The vast majority of British businesses wanted to remain in the EU.
Jaguar Land Rover Automotive plc. is the UK's largest vehicle manufacturer. Dr. Speth described the company as the UK's 'heart and soul.'
Free access to EU market
Jaguar's partners in the supply chain face an uncertain future if the British Government's negotiations fail to reach a trade deal. Specifically, a free and frictionless trade deal with the EU, i.e., one that includes unrestricted access.
The European Union is the world's largest single market. EU member states can trade with each other freely, i.e., without any tariffs or quotas.
Non-EU nations, on the other hand, do not have this free access to the EU market.
Therefore, when the UK leaves the EU, there is a good chance it won't have free access either.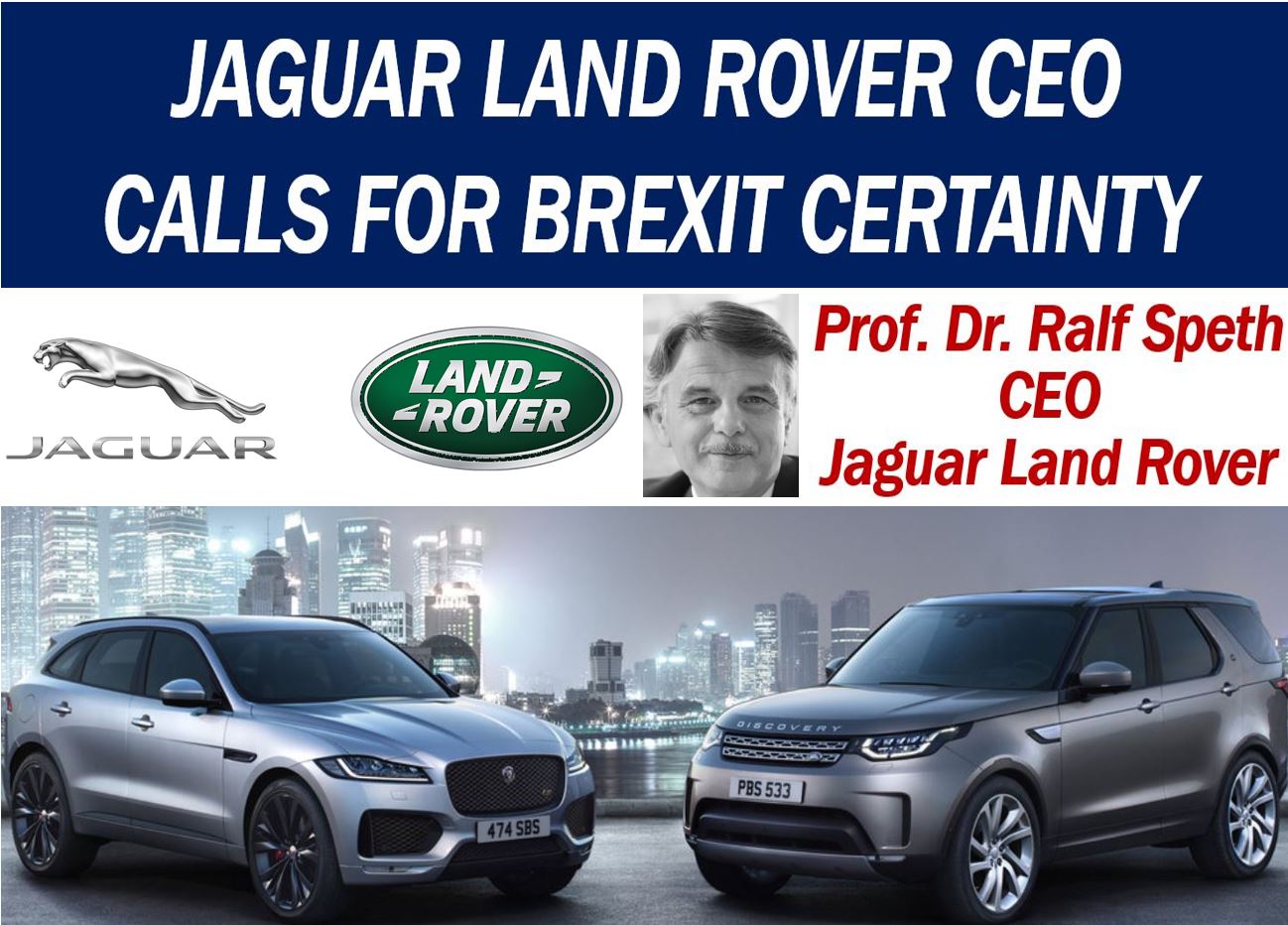 Jaguar Land Rover needs certainty
UK businesses urgently need greater certainty. Without that certainty it will become increasingly more difficult to invest heavily in the UK, Dr. Speth warned.
In other words, if we do not get a free-trade deal with the EU, a lot of future investments will either disappear or go elsewhere.
"We urgently need greater certainty to continue to invest heavily in the UK and safeguard our suppliers, customers and 40,000 British-based employees."
"A bad Brexit deal would cost Jaguar Land Rover more than £1.2bn profit each year. As a result, we would have to drastically adjust our spending profile; we have spent around £50bn in the UK in the past five years – with plans for a further £80bn more in the next five."
"This would be in jeopardy should we be faced with the wrong outcome."
Jaguar Land Rover and its supply chain
For over two-hundred and fifty years, Britain has championed free markets. The nation has incessantly made the case for free trade.
If Britain's automotive industry is serious about remaining globally competitive, we must retain tariff and customs-free access to EU trade. We must also have free access to EU talent, Dr. Speth added.
Jaguar Land Rover and its supply chain employ 300,000 people in the UK. If the British Government wants to maintain those job numbers, it must negotiate a free-trade deal with the EU.
Regarding smart mobility, Dr. Speth said:
"Electrification and connectivity offer significant economic and productivity opportunities – get Brexit wrong and British people, businesses and broader society lose the chance to lead in smart mobility."
Jaguar Land Rover – key facts
– It is the UK's largest car manufacturer, employer, and investor. It is also Britain's biggest exporter.
– Over 40,000 Jaguar employees work in the UK. Additionally, 260,000 jobs exist in the UK supply chain.
– In 2017, the company sold 621,000 cars. One-third of all cars that Britain exports are Jaguars or Land Rovers. Eighty percent of the company's production went to 130 countries.
– Jaguar Land Rover sells 20% of its cars to mainland Europe. Therefore, mainland Europe is a crucial market for the company's well-being.
– The company plans to invest £4.5 billion in the current financial year. Over half of that money will go into developing new vehicle models and technologies. On the other hand, if we don't get a free-trade deal, what will happen to the company's investment plans?
– Jaguar pays more than £2 billion in tax each year.
– Over forty percent of the parts that go into the company's cars come from mainland Europe.
Put simply, Jaguar Land Rover's CEO is telling us that without free access to the EU market, we will lose jobs. The government will probably also lose tax revenue.