British multinational car manufacturer, Jaguar Land Rover Automotive PLC, is expected to confirm the launch of Jaguar's first-ever CUV (crossover utility vehicle), the performance crossover F-Pace, at this week's Detroit Motor Show.
The launch of the production version of the C-X17 concept car that was first shown two years ago at the Frankfurt Motor Show, will move the luxury sedan and sports automaker into territory currently occupied by its more stable mate Land Rover.
The F-Pace is expected to be on the market in 2016. The vehicle will be produced at Jaguar's new lightweight technology plant at Solihull, UK, and should create about 1,300 new jobs.
The new Jaguar crossover is believed to fit between sister Land Rover's Evoque, and the Range Rover Sport.
As the company announced its planned increased workforce at its Solihull factory to build the new CUV, Ralf Speth, Jaguar Land Rover CEO, said:
"This once again demonstrates our commitment to the UK and the advancement of a hi-tech, highly skilled, manufacturing-led economy."
What is a Crossover?
A Crossover, also known as a CUV or Crossover Utility Vehicle, is a vehicle built on a car platform, which also has some of the features of an SUV (sport utility vehicle), including the characteristics of a station wagon or hatchback. In other words, it is a sedan-SUV hybrid. SUV's are known in Europe (specifically UK/Ireland) as 4×4 vehicles.
Crossovers, which offer a higher driving position compared to normal sedans (UK/Ireland: saloons), are not as big as the full-sized SUVs. They have become increasingly popular globally, and are seen as a must-have for automakers.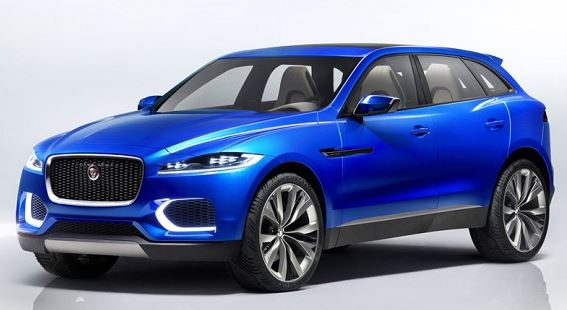 The F-Pace will be a derivative of the C-X17 concept car. (Image: Jaguar)
Jaguar, the luxury unit of Tata Motors Ltd., is aiming to increase sales (including Land Rover) to a record of over 500,000 vehicles this year. In 2014, Jaguar Land Rover sold 462,678 vehicles, which was 9% up on 2013 and its fifth successive year of growth.
Jaguar will begin deliveries of the XE saloon this year in the UK. At ₤27,000, it will be the car maker's cheapest vehicle and will rival the BMW 3-Series.
This will be a critical test for the company's ability to compete at the lower end of the luxury car market, after it stopped production of the X-type ten years ago due to sluggish sales.
Jaguar Land Rover (JLR) opened its £500m engine manufacturing plant in Solihull last year, as well as a factory in China, where capacity is expected to reach 130,000 units in its first year.
JLR is also building a plant in Brazil, with a planned annual capacity of 24,000 cars annually starting in 2016. There is talk of another factory in the United States.
Bentley is about to launch its own SUV in 2015. The company claims it already has 4,000 potential buyers for its £150,000-plus vehicle.
Rolls-Royce is to decide this year whether to add an SUV to its portfolio of products.