Dublin-based pharmaceutical multinational Shire plc. has agreed with NPS Pharma to pay $46 dollars per share to buy the company. The total all-cash transaction will be worth $5.2 billion.
The share price of $46 represents a 51% premium to NPS' unaffected share price of $30.37 on December 16th, 2014.
The FTSE 100 pharma group believes it will accelerate NPS Pharma's innovative portfolio through its market expertise in GI (gastrointestinal disorders), core capabilities in rare disease patient management, and global footbpint.
The boards of directors of both companies have unanimously approved the transaction.
NPS Pharma specializes in rare diseases. Its first product, Gattex/Revestive (teduglutide [rDNA origin]) for injection, has been approved by the US and European regulatory authorities for the treatment of short bowel syndrome in adults who are dependent on parenteral support (intravenous support).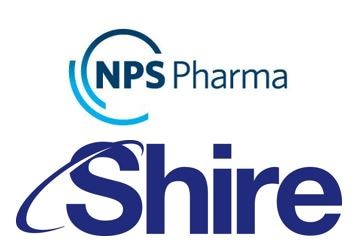 Ever since the AbbVie deal fell through, investors had been expecting Shire to make an acquisition move.
NPS also has a registration phase medication – Natara/Natpar (rhPTH -83) – for treating patients with hypoparathyroidism (abnormally low concentrations of parathyroid hormone in the blood).  If regulators approve it, which appears most likely, it will be the only bioengineered HRT (hormone replacement therapy) available to treat the rare and potentially deadly endocrine disease. The US Food and Drug Administration is expected to announce its decision on the drug before February.
Shire's Chief Executive Officer, Flemming Ornskov, MD, MPH, stated:
"The acquisition of NPS Pharma is a significant step in advancing Shire's strategy to become a leading biotechnology company. With our global strength and expertise in both rare diseases and GI, Shire is uniquely positioned to drive the continued success of GATTEX/REVESTIVE, and, if approved, commercialize NPS Pharma's pipeline compound NATPARA/NATPAR."
"We look forward to accelerating the growth of the NPS Pharma portfolio based on our proven track record of maximizing value from acquired assets and commercial execution. The NPS Pharma organization will be a welcome addition to Shire as we continue to help transform the lives of patients with rare diseases."
Francois Nader, MD, President, Chief Executive Officer and Director of NPS Pharma, commented:
"Shire shares NPS Pharma's commitment to patients with rare diseases. We believe that joining our two companies will drive value for shareholders and ensure we continue to transform the lives of patients with short bowel syndrome, hypoparathyroidism, and autosomal dominant hypocalcemia worldwide. I am confident that this transaction will accelerate our ambition of creating a world where every person living with a rare disease has a therapy."
"I would like to thank all of our employees for their continued outstanding contributions and steadfast commitment to the patients we serve."
After Shire's $55 billion tie-up with US rival AbbVie collapsed in October 2014, investors had been expecting a major acquisition by the Irish company. The failure of the deal with AbbVie gave Shire a $1.5 billion break fee, thus boosting its war chest to over $2 billion.
Shire is being advised on the deal by Lazard and Citigroup, while NPS is being advised by Leerink Partners and Goldman Sachs.