JP Morgan job cuts in its retail banking and mortgage sections will involve 8,000 employees.
America's largest bank, which had previously announced a 4,000 reduction in its workforce to cut costs, says the two sections continue shrinking.
Approximately 16,500 employees in the mortgage and retail banking sections of the company have been laid off so far.
The mortgage refinancing business has fallen steeply after interest rates began to increase following the Federal Reserve's (Fed's) bond-buying stimulus tapering.
Lay offs in mortgage and retail divisions
The JP Morgan job cuts include about 6,000 in the mortgage and 2,000 retail banking divisions. Much of the work in retail will be covered by automated machines.
Several major US banks, including Bank of America Corp. and Wells Fargo & Co. have been firing mortgage workers as interest rates rose in the second half of 2013.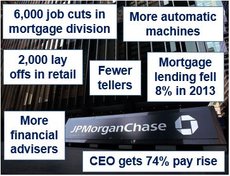 In 2013, mortgage lending at JP Morgan dropped 8% to $166 million, while refinancing fell by 24%.
Head of JP Morgan's consumer bank section, Gordon Smith, said today he expects the number of employees working at its branches to have fallen 20% by 2015 compared to 2011.
Future branches with fewer staff and more machines
In its investor day conference yesterday, JP Morgan unveiled a 'branch of the future', which will have an average of just six employees compared to the current nine, will occupy fewer square feet and have greater automation. The branches will have more financial advisers but fewer tellers.
The company is also planning to recruit approximately 3,000 new employees. It is forecast to have 240,000 workers by the end of this year.
Job cuts and higher top executives' pay, the current banking trend
JP Morgan, the biggest bank in America, joins a growing number of banks that have been increasing bonuses and salaries for their top executives. The company announced last month that its Chief Executive, Jamie Dimon, would receive a 74% increase in his pay for 2013, from $11.5 million to $20 million, despite a 16% fall in profits and firing tens of thousands of workers in order to "cut costs".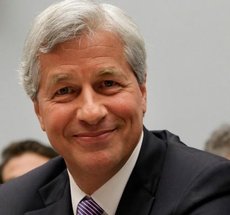 Regarding the latest JP Morgan job cuts, Jamie Dimon said to reporters before an investor day conference on February 25th that the latest job-cutting plan is part of the adjustments the bank has to make continually as its business environment changes.
Dimon said:
"You're always trimming the sails. That's business. Obviously headcount is coming down in some of the businesses. That is life."
Despite a fall in profits for Q4 2013 and reducing its workforce "to cut costs", HSBC says it will seek shareholder approval to raise the new European Union bonus cap for top executive salaries from 100% to 200%.
Barclays PLC announced plans to lay off between 10,000 and 12,000 workers this year while at the same time raising top executives' bonuses.
Over the past year, JP Morgan has agreed to pay over $20 billion in settlements to resolve a series of lawsuits and investigations.
However, there are still a number of federal probes the bank will have to face.
Video – JP Morgan job cuts