JPMorgan boss' throat cancer is curable, President, CEO and Chairman Jamie Dimon, aged 58, said. He told staff and shareholders that he will continue as head of America's largest bank despite the confirmed diagnosis. He has informed the bank of his medical status and says he is grateful for the board's support.
Mr. Dimon, a lifetime non-smoker, said there is no evidence of metastasis (cancer spreading elsewhere in the body) and that he is set to have approximately eight weeks of chemotherapy and radiation therapy at Memorial Sloan Kettering Hospital in New York.
In a memo, JPMorgan's boss said the cancer was diagnosed early and is confined to one area. After undergoing a CT scan and a biopsy, doctors found he had malignancy in his throat and the nearby lymph nodes on the right side of his neck. About two weeks ago he had been feeling unwell and went to see his doctor.
Lighter summer schedule
Mr. Dimon plans to work during most of those weeks, but will limit his traveling. He says he will work during the radiation treatment phase and will take a summer vacation while the chemotherapy is being administered.
JP Morgan has no specific individual to take over Mr. Dimon's duties as his schedule becomes lighter while he undergoes treatment. Unit and department heads will carry on as usual, said a spokesman, Joe Evangelisti. He added that the bank does have a three-year and five-to-seven-year contingency plan available in case anything happens to one of its top executives.
US media quote several executives at the bank who could potentially succeed Mr. Dimon, with chief executive of corporate, Daniel Pinto, and the company's chief operating officer, Matthew Zames, as the most obvious.
After sharing the news with shareholders and employees during the 10th anniversary celebration of his tenure at the bank, Mr. Dimon said he has cancelled a planned five-country client trip, which had included visits with the prime ministers of Italy and Greece.
Mr. Morgan wrote: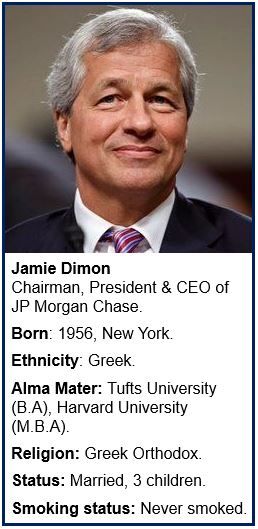 "I feel very good now and will let all of you know if my health situation changes."
Dimon credited with steering bank through crisis
Mr. Dimon has been credited by many analysts and investors with steering JPMorgan through the financial crisis and its aftermath.
The Chicago Tribune quotes Michael Holland, founder of Holland & Co, who said "One of the main reasons I'm a shareholder is Jamie Dimon, one of the biggest reasons by far. He is by numbers and the record one of the best financial CEOs of our generation."
JPMorgan has worked hard to restore its credibility with regulators, a painful process that has cost it about $20 billion.
A $13 billion settlement was agreed in November 2013 with several government authorities over the bank's sale of certain mortgage-backed securities leading up to the financial crisis.
It also agreed to a $2.6 billion settlement for allegedly not sounding the alarm regarding the Ponzi scheme.
JP Morgan Chase & Co., based in Manhattan, New York, has approximately 255,000 employees.
About throat cancer
Throat cancer refers to malignant tumors that develop in the pharynx (throat), larynx (voice box) or tonsils.
Symptoms may include a cough, alterations in the patient's voice, such as hoarseness, problems swallowing, ear pain, weight loss, sore throat, and a lump or sore that does not heal.
Risk factors linked to throat cancer include:
smoking or chewing tobacco (Mr. Dimon has never smoked),
excessive alcohol consumption,
being infected with the the human papillomavirus (HPV),
not eating enough fruit and vegetables.
Treatment may involve radiation therapy, chemotherapy, surgery (depending on the size of the tumor or to remove cancerous lymph nodes), and sometimes targeted medications, such as Cetuximab.
Outlook (prognosis) for patients with throat cancer
According to the National Institutes of Health, 90% of patients with throat cancer can be cured if detected early. If the cancer has spread beyond its original site to surrounding tissues or lymph nodes in the neck, 50% to 60% of patients are likely to be cured.
If the cancer has metastasized – spread to parts of the body outside the head and neck – it is incurable and treatment then focuses on prolonging and improving the patient's quality of life.