JPMorgan Chase & Co. is the largest bank in the US and one of the world's leading banks and financial services company. It is based in Manhattan, New York City.
The company was formed in 2000 following a merger of Chase Manhattan Corporation (a bank formed by the merger of the Chase National Bank and the Bank of the Manhattan Company in 1955) and J.P. Morgan & Co (a commercial and investment bank founded by J. Pierpont Morgan).
Since its inception JPMorgan Chase & Co. has become one of the most influential financial institutions in the world.
JPMorgan Chase & Co. is one of America's big four banks, along with Wells Fargo, Bank of America, and Citigroup.
The company serves its customers and clients under its Chase and J.P. Morgan brands:
Chase: the consumer and commercial banking subsidiary of JPMorgan Chase & Co.  Chase operates over 5,100 branches and 16,100 ATMs in the US.
J.P. Morgan: the subsidiary that focuses on asset management, investment banking, private banking, treasury and securities services, and commercial banking.
JP Morgan Chase & Co. – Company Information
CEO, Chairman, and President: Jamie Dimon
Industry: Banking
Type: Public limited company
Listed on the New York Stock Exchange (NYSE)
NYSE stock symbol: JPM
Revenue: $96.606 billion USD (2013)
Net income: $17.923 billion USD (2013)
Diluted earnings per share: $4.35 USD (2013)
Founded: 2000 (following a merger of Chase Manhattan Corporation and J.P. Morgan & Co.)
Headquarters: 270 Park Avenue, Manhattan, New York, New York, USA
Employees: 255,000 (approximately)
Website: http://www.jpmorganchase.com/

Investor relations contact number: 212-270-7325
Investor relations email: 

[email protected]



JP Morgan Chase & Co. – Financial Results
| | | |
| --- | --- | --- |
| Key figures (in millions of USD except for share data) | 2013 | 2012 |
| Total net revenue | $96,606 | $97,031 |
| Total noninterest expense | $70,467 | $64,729 |
| Pre-provision profit/(loss) | $26,139 | $32,302 |
| Provision for credit losses | $225 | $3,385 |
| Net income | $17,923 | $21,284 |
| Total assets (Dec 31) | $2,415,689 | $2,359,141 |
| Total stockholders' equity (Dec 31) | $211,178 | $204,069 |
| Earnings per share – basic (in USD) | $4.39 | $5.22 |
| Earnings per share – diluted (in USD) | $4.35 | $5.20 |
Source: "JPMorgan Chase & Co. Earnings Release Financial Supplement Fourth Quarter 2013"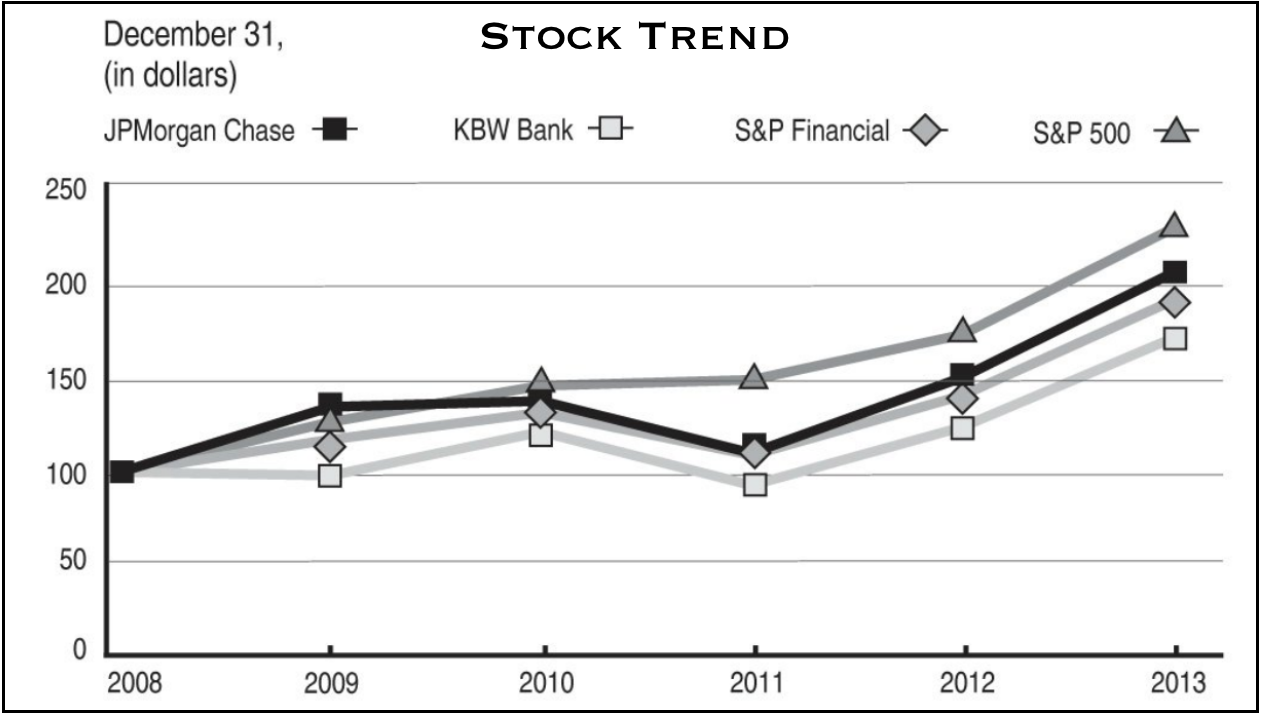 JP Morgan Chase & Co. – Live Stock Market Data
---
News about JP Morgan reported by Market Business News:
July 15, 2014: America's largest bank posted its Q2 2014 earnings, reporting a decline of 8% as the company struggles with shrinking incomes from trading and sluggish mortgage lending. Profits of $6 billion were lower than the $6.5 billion registered in Q2 2013.
July 2, 2014: Jamie Dimon, JP Morgan's President, CEO and Chairman, told his employees and shareholders via a memo that he has been diagnosed with throat cancer. He added that doctors told him it is curable and that his prognosis is "excellent" because the malignancy was detected early. He will undergo eight weeks of chemotherapy and radiation therapy. He plans to work during the radiation therapy phase, but will take a summer vacation while the chemotherapy is being administered.
May 20, 2014: JP Morgan, along with HSBC and Crédit Agricole have been accused by the European Commission of Euro rate rigging. US and European regulators have so far fined 10 brokerages and banks about $6 billion for rigging Libor and its cousin Euribor. JPMorgan and HSBC say they will fight the Commission's findings, while Crédit Agricole says it will study them.
April 11, 2014 JP Morgan profits declined sharply in Q1 2014 to $114 million from $674 million. The company said its steep profits fall was primarily due to a slump in mortgage business. This is the bank's second successive quarterly decline in profits. Boss Jamie Dimon described the results as "good".
February 26, 2014: JP Morgan announces further job cuts involving 8,000 workers. It had previously announced a workforce reduction of 4,000. The bank says the layoffs will occur in its mortgage and retail banking divisions. The company has so far laid off 16,500 people in the two divisions.
January 25, 2014: Chairman and CEO Jamie Dimon will receive $20 million for the past 12 months' work, seventy-four percent more than the $11.5 million he was paid in the previous year. He will get a basic $1.5 million salary plus shares worth $18.5 million. The bank's board of directors approved Mr. Dimon's remuneration. In 2012, his pay had been cut from $23.1 million to $11.5 million.
---