Latin American football bosses were among the sixteen individuals charged on Thursday with racketeering, wire fraud and money laundering conspiracies, among other offenses, as US prosecutors tear down a Central and South American football network of criminal activities. Since May 2015, the US Department of Justice has charged 41 individual and entities with illegal practices in international football (US: soccer).
According to court records, the bosses of the CONCACAF (Confederation of North, Central American and Caribbean Association Football) and CONMEBOL (Confederación Sudamericana de Fútbol – South American Football Confederation), along with high-ranking FIFA executives were charged, as were current and former bosses of CBF (Confederação Brasileira de Futebol – Brazilian Football Confederation), which hosted last year's World Cup tournament.
The indictment named Rafael Callejas, former president of Honduras and also former head of the Honduran Football Federation, and Héctor Trujillo, a Guatemalan judge.
According to US prosecutors, the 16 newly-indicted defendants are all former or current football officials who acted at various times in a fiduciary capacity within FIFA and one or more of its constituent organizations. (Source: US Department of Justice)
According to Reuters news agency, Mr. Trujillo was on holiday in the US. Mr. Callejas said he will defend himself in court.
Arrests made in Zurich in pre-dawn raid
In a pre-dawn raid at a hotel near FIFA's head office in Zurich, Switzerland, Alfredo Hawit, CONCANAF acting president in Honduras, who is also a FIFA vice-president, and Juan Angel Napout, head of CONMEBOL in Paraguay, were arrested by Swiss police.
---
---
Mr. Hawit was appointed to replace Jeffrey Webb of the Cayman Islands who was arrested in May in Zurich. Mr. Webb, an ex-FIFA vice president, who pleaded guilty in November to racketeering and some other charges, agreed to forfeit $7.6 million.
Corruption 'deeply ingrained' in much of football world
At a news conference in Washington, US Attorney General Loretta Lynch said that corruption had become a deeply-ingrained practice in football business dealings in several parts of the world.
According to the US Department of Justice, Attorney General Lynch said:
"The Department of Justice is committed to ending the rampant corruption we have alleged amidst the leadership of international soccer – not only because of the scale of the schemes, or the brazenness and breadth of the operation required to sustain such corruption, but also because of the affront to international principles that this behavior represents."
"The message from this announcement should be clear to every culpable individual who remains in the shadows, hoping to evade our investigation: You will not wait us out. You will not escape our focus."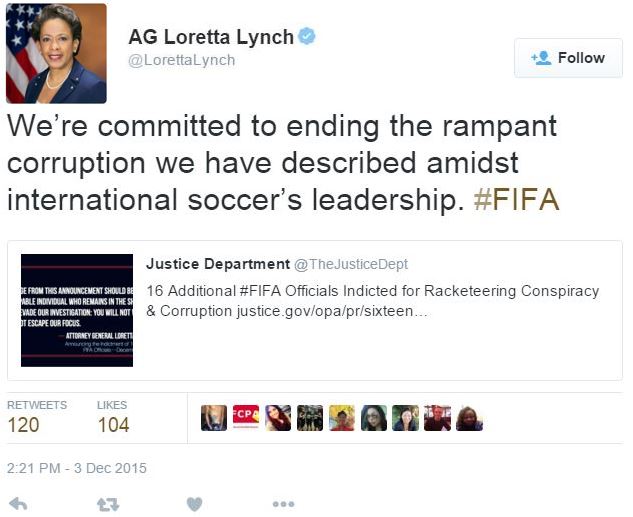 Attorney General Lynch described the corruption in international football as 'rampant'. (Image: twitter.com/LorettaLynch)
The charges were announced by Attorney General Loretta E. Lynch, U.S. Attorney Robert L. Capers of the Eastern District of New York, FBI Director James B. Comey, Chief Richard Weber of Internal Revenue Service-Criminal Investigation (IRS-CI), Assistant Director in Charge Diego G. Rodriguez of the FBI's New York Field Office, and Special Agent in Charge Erick Martinez of the IRS-CI Los Angeles Field Office.
Including the new charges unsealed on Thursday, the total number of people and entities charged so far is 41. Of those, two sports marketing firms and twelve individuals have already been convicted as a result of the investigation, which is still ongoing.
More than $190 million to be paid in fines
The defendants who have been convicted have agreed to pay over $190 million in forfeiture. A further $100 million has been restrained in the US and other countries in connection with the alleged crimes.
US authorities have issued mutual legal assistance requests seeking asset restraints in thirteen different countries.
FBI DirectorJames Comey said:
"For decades, these defendants used their power as the leaders of soccer federations throughout the world to create a web of corruption and greed that compromises the integrity of the beautiful game. I want to thank all the agencies for their hard work and for showing the world that we do not tolerate this criminal activity."
Chief Richard Weber, of Internal Revenue Service-Criminal Investigation, said:
"The brazenness with which the individuals indicted today breached the integrity of the U.S. financial system to promote and conceal their criminal schemes is quite alarming."
"While it is one of the most complex worldwide financial investigations ever conducted, it is also an eye opener to everyone that such greed and corruption could be hiding in plain sight within the world's most popular sport."
"By conspiring to enrich themselves through bribery and kickback schemes relating to media and marketing rights, the defendants undermined the process of fair and open competition, corrupting the beautiful game for their own personal gain."
Video – Fresh arrests in FIFA corruption scandal