UK astronaut Major Tim Peake plans to do a 26.2-mile marathon aboard the ISS in space and become the first astronaut to run that distance while orbiting Earth. He will by running on a treadmill at the same time April's London Marathon is underway.
He will be running to raise money for the The Prince's Trust, a charity founded in 1976 by the Prince of Wales and Frederick John Pervin to help young people.
Major Peake, who blasts off from Baikonur Cosmodrome in Kazakhstan on December 15, says he will be attached by a harness to the treadmill in the microgravity environment, otherwise he would just float into the air the moment he started moving his legs.
To run a marathon in space, Major Peake will need to train for several weeks. That training will help reduce his muscle mass and bone density loss. (Image: twitter.com/astro_timpeake)
Earlier this week, the European Space Agency announced that Peake's stay in space will be extended by 1 month, meaning he will be aboard the International Space Station (ISS) for 173 days.
Peake will be watching the course on a big screen
While running the spaceman's marathon, he will be watching the London course on a video on a large screen.
---
---
A seasoned marathon runner, who also enjoys cross-country running, triathlon, caving and climing, Major Peake said:
"The London Marathon is a worldwide event. Let's take it out of this world. The thing I'm most looking forward to is that I can still interact with everybody down on Earth."
"I'll be running it with the iPad and watching myself running through the streets of London whilst orbiting the Earth at 400km above the surface and going 27,000km per hour."
"One of the biggest challenges I'll be facing is the harness system. In microgravity I would float if I didn't strap myself down to the treadmill so I have to wear a harness system that's a bit similar to a rucksack."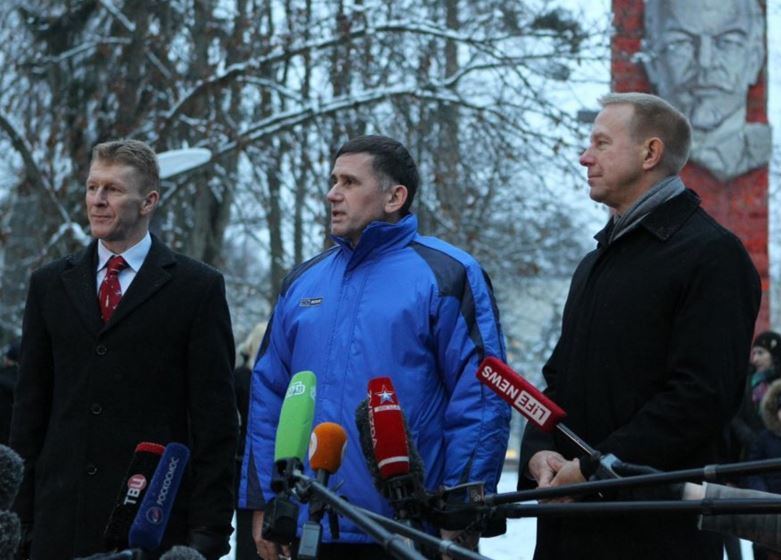 Major Tim Peake (left), Russian cosmonaut Yuri (middle) Malenchenko and NASA astronaut Tim Kopra are now in quarantine in Baikonur, in order to minimize the risk of becoming ill or developing an infection before blast off, or passing nasty germs to the other six astronauts currently on board ISS. (Image: pbs.twimg.com)
Unlikely to beat personal best
In 1999, he completed the London Marathon in 3 hours and 18 minutes. He doubts he will be able to beat or match that personal record.
Major Peake added:
"I don't think I'll be setting any personal bests. I've set myself a goal of anywhere between 3:30 to 4 hours."
Living in a microgravity environment significantly reduces astronauts' muscle mass and bone density. They have to do daily exercises to minimise those effects.
Event Director of the London Marathon, Hugh Brasher, said:
"Tim's mission will undoubtedly inspire a generation of children to explore science and space. We hope that this extraordinary marathon run in space will also inspire that generation to run."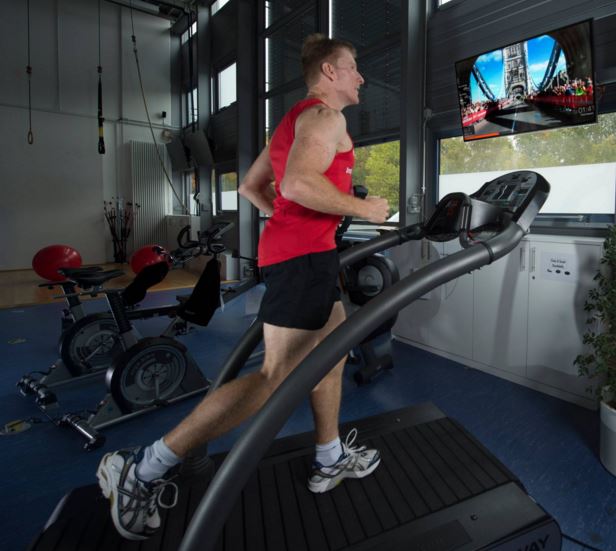 Will Major Peake's space marathon be setting a new trend in cosmos sports? (Image: virginmoneylondonmarathon)
Still plenty to do before lift off
Before blast off, the astronauts will need to undergo medical checks, take part in physical training exercises, prepare experiments, and carefully study and rehearse the plans for the six-hour flight to ISS.
American space agency NASA said several experiments are currently underway and will continue in space as the crew and scientists explore blood circulation, radiation and microbes living on crew members.
Many of these experiments will hopefully benefit people on Earth and future space crews.
Major Peake, a former army helicopter pilot, will travel on the left seat of the small Soyuz TMA-19M spacecraft's capsule, and act as Commander Malenchenko's co-pilot. They will arrive at ISS with six other astronauts waiting for them.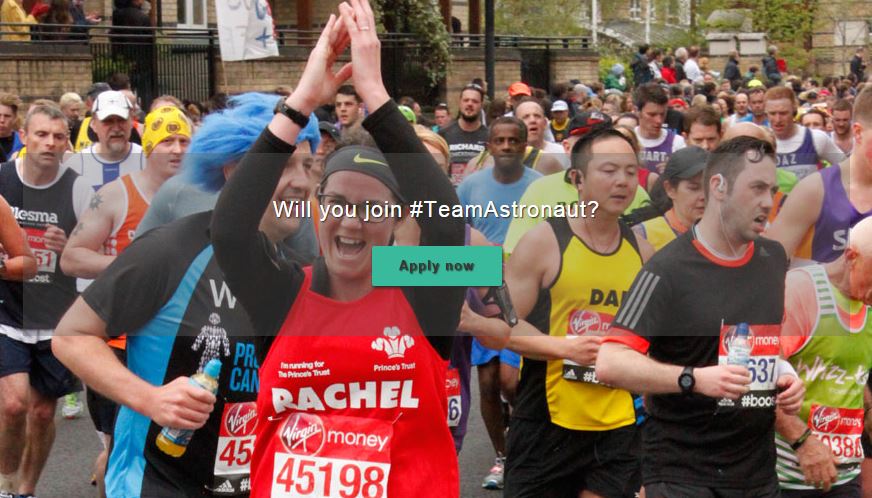 Do you want to be part of the Prince's Trust team along with Major Peake? Read below. (Image: Prince's Trust)
Prince's Trust invites you to join Tim Peake
Do you fancy joining Major Peake on the ground to raise vital funds to change young people's lives? You would be part of an historic team with Tim, and will even share some of his training tips as he prepares to push himself on the treadmill 400 kilometres away in space.
The London Marathon is the largest annual fundraising event on Earth – since 1981, runners have raised more than £500 million for good causes.
Here is your chance to run in the Virgin Money London Marathon 2016, and experience Britain's capital at its best!
Apply now to join the Prince's Trust team.
Video – Tim Peake to run marathon in space
In this Virgin Money London Marathon video, Major Peake talks about why he's undertaking the marathon challenge during his six month mission in space.