A rechargeable lithium metal battery with twice the lifetime of current lithium ion batteries should be on the market any day now, as soon as an MIT spinout completes the commercialization of its new invention, says a group of scientists. They have created either a battery that lasts twice as long as anything else currently on the market, or can be half the size with the same lifetime.
This new lithium metal battery could mean your drone, wearable, smartphone or tablet lasting twice as long before needing to be recharged.
Founded in 2012 by MIT graduates and former postdoc Qichao Hu, SolidEnergy Systems has created an 'anode-free' lithium metal battery with a number of material advances that have doubled its energy density.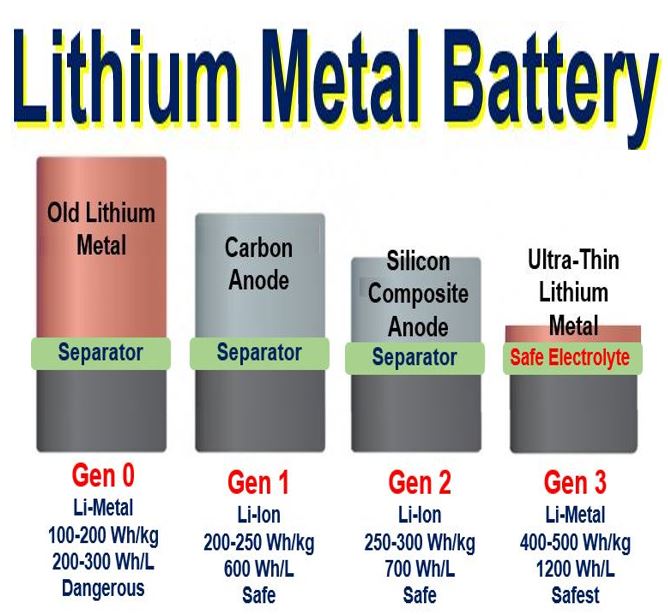 The new battery can last twice as long as existing ones of the same size, or be half the size and have equivalent lifespans. (Image: news.MIT.edu)
The new battery is equally as safe as the lithium ion batteries we use in out electric cars, wearables, drones, smartphones and other devices.
Half the size or double the life
Dr. Hu, who invented the battery at MIT with colleagues and is now SolidEnergy's CEO, said:
"With two-times the energy density, we can make a battery half the size, but that still lasts the same amount of time, as a lithium ion battery. Or we can make a battery the same size as a lithium ion battery, but now it will last twice as long."
Essentially, the battery swaps out graphite, a common battery anode, for very thin and high-energy lithium-metal foil, which has the capacity to hold more ions, and consequently provide greater energy capacity.
Safer to use
The modifications done to the chemical makeup of the electrolyte also make the usually short-lived and volatile lithium metal batteries rechargeable and considerably safer to use.
Moreover, mass-producing this new lithium metal battery can occur immediately, given that it is made using existing lithium ion manufacturing equipment.
The new battery, which is half the size of an Apple iPhone battery, lasts longer. The ultra-thin metal anode can double energy density and achieve 1200 Wh/L and 400 Wh/kg. (Image: solidenergysystems.com)
SolidEnergy demonstrated its first working prototype – a rechargeable lithium metal smartphone battery with twice the energy density – in October last year. The company has earned over $12 million from investors.
At half the size of an iPhone 6's lithium ion battery, it offers 2.0 amp hours, compared with the iPhone 6's 1.8 amp hours.
To be used for smartphones, wearables and cars
The company says it plans to bring the new batteries to smartphones and wearables next year, and to electric cars within the next 24 months.
In November this year, it will be used to power drones.
Mr. Hu said:
"Several customers are using drones and balloons to provide free Internet to the developing world, and to survey for disaster relief. It's a very exciting and noble application."
Massive societal impact
The scientists said that putting these new lithium batteries in electric vehicles as well may represent a massive societal impact.
Mr. Hu added:
"Industry standard is that electric vehicles need to go at least 200 miles on a single charge. We can make the battery half the size and half the weight, and it will travel the same distance, or we can make it the same size and same weight, and now it will go 400 miles on a single charge."
The new battery will be used on drones later this year, then wearables and smartphones, followed by electric cars. (Image: nature.com)
A decades-long quest
For decades, scientists have sought in vain to make rechargeable lithium metal batteries, because of their considerably greater energy capacity, but with no success, that is, until now. Dr.Hu said "It is kind of the holy grail for batteries."
Lithium metal, for a start, reacts poorly with the battery's electrolyte – a fluid that conducts ions between the anode (negative electrode) and the cathode (positive electrode) – and forms compounds that reduce the cycle life by increasing resistance.
This reaction also creates dendrites on the anode – mossy lithium metal bumps – which cause short circuits which in turn generate high heat that ignite the flammable electrolyte, making it virtually impossible to recharge the batteries.
Whenever measures were taken to make the batteries safer, it would be at the cost of their energy performance.
Prof. Donald Sadoway, a well-known battery researcher who has developed many molten salt and liquid metals batteries, was helped by Dr. Hu, who was working as a postdoc in the MIT group at the time. Dr. Hu helped make a number of key design and material advancements in lithium metal batteries, which became the foundation of the company's technology.
One of the innovations involved using a super-thin lithium metal foil for the anode, which is approximately one-fifth the thickness of a traditional lithium metal anode, and several times lighter and thinner than traditional graphite, silicon or carbon anodes. By doing this they managed to reduce the battery size by 50%.
Making the battery work at room temperature
They still had a major obstacle to overcome – the battery only worked at 80°C (176°F) or higher. "That was a showstopper. If the battery doesn't work at room temperature, then the commercial applications are limited."
To address this problem, Dr. Hu developed a solid and liquid hybrid electrolyte solution. The lithium metal foil was coated with a thin solid electrolyte that does not need to heat up in order to function. He also created a new, non-flammable quasi-ionic liquid electrolyte, and has added further chemical modifications to the cell design and separator to prevent it from negatively reacting with the lithium metal.
What we have now is a battery with the energy-capacity perks of lithium metal batteries, but with the longevity and safety features of lithium ion batteries that can operate at ambient temperature.
Dr. Hu said:
"Combining the solid coating and new high-efficiency ionic liquid materials was the basis for SolidEnergy on the technology side."
A business plan for the Lithium metal battery
Dr. Hu frequented the Martin Trust Center for MIT Entrepreneurship to learn more from investors and mentors. He also attended an Energy Ventures course – Course 15.366 – where he formed a team to develop a business plan for the new battery.
At the IT $100k Entrepreneurship Competition's Accelerator Contest, the team won the first-place prize, and was also a finalist in the MIT Clean Energy Prize. The team then represented MIT at the national Clean Energy Prize competition held at the White House, where they came in at second place.
Towards the end of 2012, Dr. Hu was getting ready to launch SolidEnergy when a well-known MIT spinout developing advanced lithium ion batteries – A123 Systems – filed for bankruptcy. Things looked bleak for battery companies. "I didn't think my company was doomed, I just thought my company would never even get started," Dr. Hu said.
SolidEnergy was able to use A123's facilities in Waltham which had become idle – including dry and clean rooms as well as manufacturing equipment – to prototype. A123 was acquired by Wanxiang Group in 2013, at the same time SolidEnergy signed a collaboration agreement to continue using A123's resources.
At A123, SolidEnergy had to prototype using existing lithium ion manufacturing equipment – which eventually led the startup to design novel, but commercially viable batteries.
New manufacturing processes not practical or scalable
Battery companies with new material innovations frequently develop new manufacturing processes around new materials, which are often neither practical nor scalable, Dr. Hu explained.
Dr. Hu said:
"But we were forced to use materials that can be implemented into the existing manufacturing line. By starting with this real-world manufacturing perspective and building real-world batteries, we were able to understand what materials worked in those processes, and then work backwards to design new materials."
This month, SolidEnergy moved its headquarters to a brand new, state-of-the-art pilot facility at Woburn. This facility is ten times larger than the A123 space it had to share for three years.
Related interesting article: "The relationship between lithium ion battery and 18650 battery pack."
Video – More powerful batteries
In this BBC video, a reporter visits SolidEnergy Systems during a snowstorm.