Lockheed Martin is an American multinational aerospace, defense, and security company based in Bethesda Maryland, with over 116,000 employees worldwide.
The company was formed in 1995 following a merger between Lockheed Corporation and Martin Marietta.
Lockheed Martin operates around five different core business areas, including: Aeronautics, Information Systems and Global Solutions, Missiles and Fire Control, Mission Systems and Training, and Space Systems.
Its main product lines are military aircraft, information technology solutions, management services, advanced technology expertise, surface, air, and undersea applications, in addition to precision engagement aerospace and defense systems for American and allied militaries.
Lockheed Martin is one of the leading companies contracted by the US government from agencies such as the Department of Defence, Department of Energy, the National Security Agency, and the Pentagon.
Lockheed Martin – Products and Services
Aerospace and Defense products: aircraft, ground vehicles, missiles and guided weapons, missile defense systems, naval systems, radar systems, sensors, tactical communication systems, defense training, transportation and safety management, and unmanned systems.
Information Technology products: Medical analytics, cloud computing, census systems, air defense command and control, cyber security, next generation identification (NGI) systems.
Space products: Defense satellites, space exploration systems and vehicles, in addition to launch vehicles.
Lockheed Martin – Company Overview
President and CEO: Marillyn A. Hewson
Type: Public
Listed as: NYSE: LMT
Headquarters: Bethesda, Maryland, USA
Founded: 1995
Employees: 116,000 (2012)
Company subsidiaries: Lockheed Martin Aerospace Systems Integration Corporation, Lockheed Martin Australia Pty Limited, Lockheed Martin Canada Inc., Lockheed Martin Desktop Solutions, Inc., Lockheed Martin Engine Investments, LLC, Lockheed Martin Global, Inc., Lockheed Martin Integrated Systems, Inc., Lockheed Martin Integrated Technology, LLC, Lockheed Martin International Service Corporation, Lockheed Martin Investments Inc., Lockheed Martin Logistics Management, Inc., Lockheed Martin Operations Support, Inc., Lockheed Martin Services, Inc., Lockheed Martin Space Alliance Company, Lockheed Martin UK Ampthill Limited, Lockheed Martin UK Limited, QTC Holdings Inc., Sandia Corporation.
Lockheed Martin – Financial Results
| | | |
| --- | --- | --- |
| Key figures (in millions of USD except for share data) | 2013 | 2012 |
| Net sales | $45,358 | $47,182 |
| Consolidated Operating Profit | $4,505 | $4,434 |
| Net Earnings | $2,981 | $2,745 |
| Total Assets | $36,188 | $38,657 |
| Total Debt | $6,152 | $6,308 |
| Stockholders' Equity | $4,918 | $39 |
| Cash and Cash Equivalents | $2,617 | $1,898 |
| Diluted Earnings Per Common Share (in USD) | $9.13 | $8.36 |
Lockheed Martin Stock Data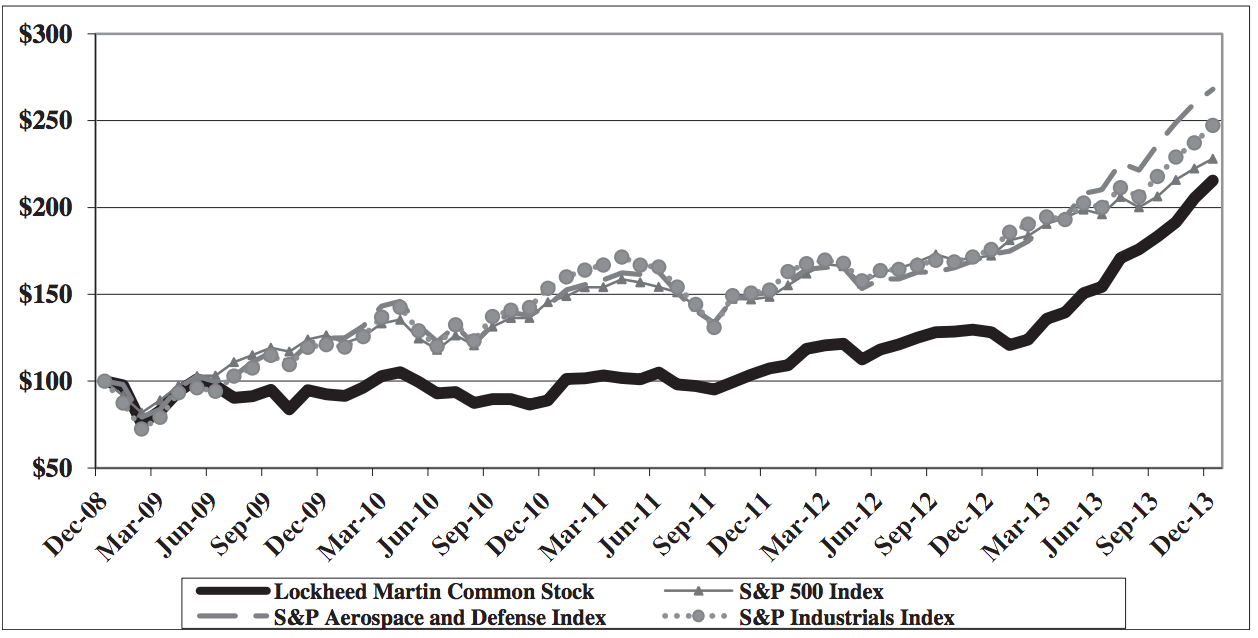 Source: "Lockheed Martin 2013 Annual Report"
Lockheed Martin – Live Stock Market Data
---
Written by [google_authorship]