Now is the right opportunity to think about starting to plan your business idea. Being in 2020, there are plenty of opportunities to start a new business and to grow. The US market is wide open to new ideas and products. You can find all the information needed to start the business idea that fits you on the TRUiC website.
Planning is key
You have to plan everything from the beginning. Find out about: Where, What, and How. To structure your business idea takes time and can also take a lot of effort and money. However, to build your business and create your start-up doesn't require being rich. You can follow your dream and create your brand with less than you imagine.
---
---
A lot of people out there want to become an entrepreneur and to start building their own business up from scratch. Are you one of them? Then don't hesitate and don't lose time. Maybe it's daunting but it's all on you.
Find Opportunities and Grow
It can be challenging to come up with your own ideas. You need to be creative and do research about what are the consumer's needs. You will find this article interesting. You can "discover" which are the best low-cost start-ups ideas and start planning today!
Low-costs Business Ideas with High Profits
Coffee Lover?
Then Coffee Trucks or Coffee Shops are for you. These are lucrative businesses with a good return of investments (ROI). Especially for coffee trucks, you don't need to be rich. You don't need a big amount of money. You can start on your own with a small truck and the coffee equipment. Coffee shops also are good investments. You can open a small, cosy coffee shop. Nowadays small places are really attractive, and people prefer them.
Food Trucks
Likewise, Food Truck businesses seem to be the trend everywhere in the world lately. Did you know that the first food truck in the US appeared in the late 1800s in Texas? A type of food kitchen truck called "chuckwagon''. Street food has always been a profitable investment. Americans love it.
Teaching and Consulting
These businesses are fantastic low-cost start-ups. Either as an online-based business, such as online tutoring or home-based personal training and coaching. Business consulting is currently also booming as a business idea, especially online.
Web-Based start-ups
You can find plenty of them. Do you have digital skills or talent in technology? Then you might consider start-ups such as social media marketing, writing and editing business, data entry business, online blogging, and any other business platform ideas you might have.
Cleaning and Maintenance
A Low-cost start-up business. If you have a little capital to invest in your business idea, they may be interesting for you.
Beauty and lifestyle
There are 5 billion females on Earth. Beauty and Lifestyle are not only for them though. Nowadays men and women want to follow the latest beauty trends and feel attractive. If you have beautician skills, then you may want to open a small place and start your business by improving the customer's physical beauty. Lifestyle businesses, such as fashion consulting are considered low-cost start-up ideas and these have flourished in the last decades.
Be creative and flexible
Think of any talents and hobbies you might have. Do you like to create hand-made furniture? Do you know how to make hand- made soaps or candles or anything else? Do you love music? You can always start by using your unique talent and create your business.
Launch your business with a small budget. You don't need lots of money. You just need to find the idea that better suits you and start making the business plan. You can always ask for guidance. The TRUiC website gives you the best possible start-up ideas, provides you with the start-up guide, and leads you to a step by step business plan.
Success Stories- Popular entrepreneurs who started small and became big
Jeff Bezos and Amazon – Jeff Bezos was a software engineer and he started his business idea as an online bookstore in his garage. He started low-cost and he expanded and today is the largest online retailer across the world.
Steve Murch – The founder of Big Oven. He started his food mobile app in 2002 and today has more than $10 million downloads.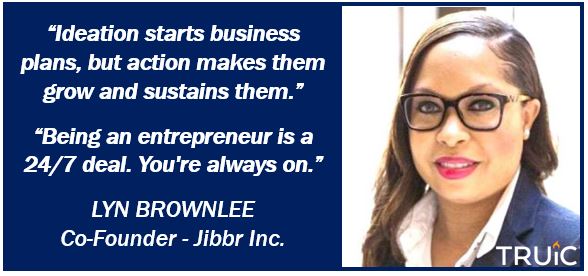 Take Away: A little bit of History
Do you know Madam JC Walker? The first black female American entrepreneur. She is an excellent example of a self-made and "start-up'' business owner. She became one of the first African- American businesswoman millionaires in the United States. In 1906, She started her local business on hair cure products known as "Walker method" or "Walker beauty culture" and she developed across the US. She also expanded internationally.
There are plenty of examples out there of people who used their talent and started their own business locally and then expanded and developed becoming big famous companies.
Video – What is a startup?
---
Interesting related article: "What is a Startup?"