Germany's flag carrier, Deutsche Lufthansa AG, is going to suffer further flight disruptions on Monday as pilots resume strike action. Lufthansa pilots will have walked out eight times this year, a strategy that is not only giving the airline a bad name, but is also costing hundreds of millions of euros.
The Vereinigung Cockpit union, which represents 5,400 Lufthansa pilots, has called on its members to strike from 1pm on Monday until 11.59pm on Tuesday. Last week Germanwings, Lufthansa's budget airline, cancelled 46 flights.
Lufthansa emphasized that its long-haul flights will not be affected by the industrial actions The airline described the pilots planned walkout as "not understandable and in no way proportionate."
European budget airlines such as EasyJet and Ryanair are benefiting enormously from Lufthansa's and Air France's pilot strikes, which they see as a gift for gaining market share in Europe's highly competitive short-haul market.
This year Lufthansa has had to cancel tens of thousands of flights, including 3,800 departures just from a three-day pilot stoppage in April.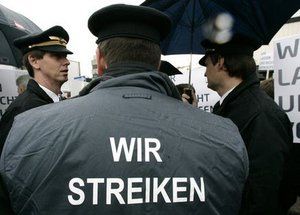 Each time Lufthansa pilots strike, the budget airlines get stronger.
Unions and Lufthansa as far apart as ever
The Vereinigung Cockpit union criticized the German airline for being unwilling to compromise and insisting on its maximum demands. It said pilots are ready and willing to carry out further and more biting action.
The union wants Lufthansa to maintain a scheme that grants early retirement for pilots at the age of 55 years. In the scheme, they receive up to 60% of their wages until regular pension payments start.
The airline says the scheme is irrelevant because a recent court ruling means that a pilot can now work until he/she is 65.
Lufthansa, along with Air France and other national flag carriers in Europe, are struggling against fierce competition from budget airlines. Since the global financial crisis and Great Recession that followed, consumers have become extremely price conscious.
Experts wonder what will be left of one of the world's largest airlines when the string of disputes is finally resolved. All they appear to have accomplished so far is to make the competition stronger and themselves weaker.
Train drivers strike
German train drivers walked out for 50 hours during the weekend, their second strike in one week. Their action brought more than two-thirds of all long-distance trains to a standstill in a dispute over wages and negotiation rights. The stoppage is set to last until 4am on Monday.
The train drivers' industrial action has left millions of passengers across the country stranded.