A six-foot long mammoth tusk was discovered by a team of archaeologists on an early morning walk – they spotted the 14,000-year-old specimen poking through the shingle. The volunteers, all of them members of CITIZAN (Coastal and Intertidal Zone Archaeological Network), made the amazing discovery off Mersea Island in Essex, England, on Thursday morning.
In a CITIZAN blog, Oliver Hutchinson explained that the days leading up to last Thursday brought some of the lowest tides of the year around England's coast.
High pressure and a south westerly wind around Mersea Island combined to deliver perfect conditions that pushed the tide considerably farther out than normal.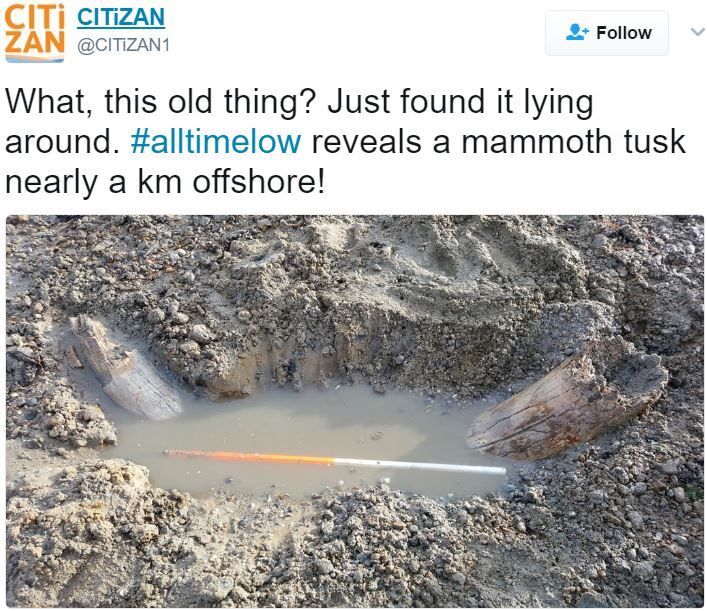 The walkers had been looking for ancient timber, and found a 14,000-year-old 2-metre mammoth tusk instead! (Image: twitter.com/CITiZAN1)
In some places, people were able to walk over one kilometre from the shoreline across the mud of the massive and beautiful Mersea Flats.
Hutchinson wrote:
"With so much foreshore exposed our team of over twenty would need to work quickly to cover as much of the rarely exposed foreshore as possible. It was surely a 'mammoth task'."
---
---
The early-morning walkers split into two groups – one walked west while the other went east along the low water line.
They had extra air support on the day with two pilots flying above taking aerial photographs of the rarely-exposed foreshore.
The main aim of the day was to determine whether any more track way timbers could be observed in the vicinity of track 1.
None of them knew that they were about to discover something far more exciting than ancient timber.
Because of its age and fragile state, picking up the mammoth tusk was out of the question – it would have fallen apart or disintegrated in the people's hands. (Image: facebook.com/citizan1)
Mammoth tusk discovered!
The eagle-eyed volunteers spotted a pointy feature poking out between the sands and shingle. After some cleaning of the area, they were able to reveal a whopping 2-metre-long tusk of a beast from the east (of Mersea).
Its very old age – approximately 14,000 years – meant that it was extremely fragile and crumbled when touched. Therefore lifting it out was out of the question.
---
---
Hutchinson wrote:
"Our ever amazing volunteer team braved the early start again today to revisit the tusk and gather enough data and photographs to create this fantastic 3D model (created by the king of the skies of Mersea, James Pullen)."
The archaeologists gathered samples of the tusk and the clay and sands around and underneath it for analysis back at CITIZAN.
---