Despite a disappointing performance on the pitch this season, Manchester United profits increased to £11 million in the three months ending March 2014 (the company's third quarter), compared to £3.6 million in the same quarter last year. Revenue rose to £115.5 million, an all-time record.
Matchday takings, commercial and broadcasting revenues grew in comparison to the previous year's quarter, even though the club came seventh in the Premier League season and consequently did not qualify for the UEFA Champions League. Not since 1995-1996 has Manchester United been unable to qualify for the Champions League and defend its Premier League title.
Ed Woodward, Manchester United's executive vice chairman, said:
"We once again generated record revenues as all of our businesses delivered impressive year-over-year growth. This puts us in a healthy position to continue to invest in the squad. Everyone at the club is working hard to ensure the team is back challenging for the title and trophies next season".
The Glazer family owns the majority of Manchester United's boardroom votes and 90% of the company. Baron Capital made a considerable investment buying shares in December 2013 and now owns 2.5% of the club.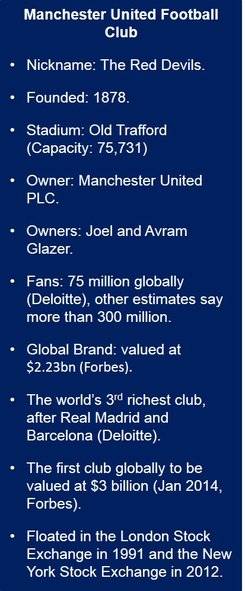 Louis van Gaal to take over
The current manager of Holland, Louis van Gaal, is expected to take over as the new Manchester United manager, to replace David Moyes who was fired in April.
The club is expected to announce the new manager officially next week. The current caretaker manager is Ryan Giggs.
Update May 26th 2014: Manchester United's brand value declined by $98 million this year to $739 million (vs. $837 in 2013), according to consultancy firm Brand Finance. The club and its hundreds of millions of fans around the globe hope that van Gaal will reverse its fortune. Mr. Van Gaal has an impressive track record as ex-manager of Ajax, Barcelona and Bayern Munich.
Revenue streams help boost Manchester United profits
All figures below compare third quarter results with the third quarter of the prior year.
For the third quarter, commercial revenue increased by £6.8 million, or 18.9%, to £42.8 million.
Sponsorship revenue – increased by 43.5%, or £9.3 million, to £30.7 million, thanks to higher renewals, and new global and regional sponsorships. Deals were signed with drinks company Aperol, as well as Eurofood in Southeast Asia.
Retail, Merchandising, Apparel & Product Licensing – declined by £0.8 million to £8.4 million. Revenue for the year was £28.2 million, an increase of 0.4%, or £0.1 million.
New Media & Mobile – declined by £1.7 million to £3.7 million, due to the expiration of some mobile partnerships.
Broadcasting – rose by £13.9 million, or 64.1% to £35.6 million, due to:
Higher revenue from Premier League domestic and international rights agreements.
Two extra home Premier League games.
The live broadcast of five additional Premier League games.
Matchday – revenue increased by 9.1%, or £3.1 million to £37.1 million, mainly due to:
Two extra home Premier League games.
One additional home Capital One Cup game.
This was partly offset by three fewer home FA Cup matches.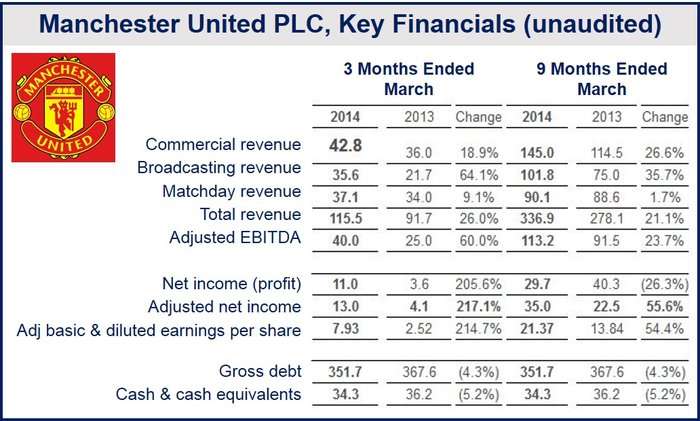 (Source: Manchester United PLC)
Operating expenses – Q3 vs. prior year Q3
Operating expenses increased by 15.8%, or £12.5 million, to £91.5 million.
Staff costs – increased by 18.9%, or £8.5 million, to £53.4 million, mainly due to the purchase of new players and renegotiated player contracts.
Other operating expenses – increased by 1.4%, or £0.3 million, to £22.1 million, mainly due to greater fixed costs from foreign exchange losses, as well as higher sponsorship servicing. This was partly offset by lower variable costs because 3 fewer FA Cup matches were played.
Depreciation & amortization of players' registrations – rose by 15.8%, or £0.3 million, to £2.2 million. Amortization of players' registrations increased by 32.7%, or £3.4 million, to £13.8 million. The unamortized balance of players' registrations at the end of March 2014 was £161.8 million.
Video – Manchester United profits up