Europe's largest floating solar farm is being installed in Greater Manchester.
Work on the £3.5 million project has already started. The 5,500 sq-m (484 sq-ft) power system will have 12,000 solar panels floating above Godley reservoir and is set to generate 2.7GWh of zero carbon energy every year.
It will be the largest of its kind in Europe and second biggest in the world after a facility in Japan, according to the announcement.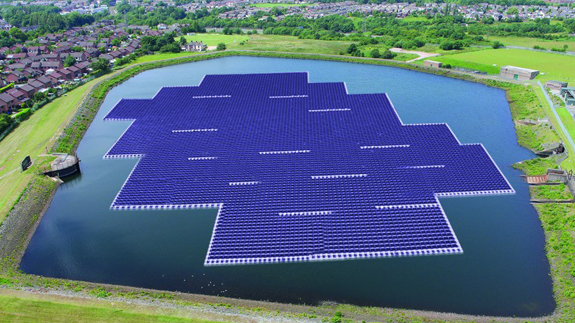 Water firm United Utilities said that the project is part of the company's goal to generate 35% of its power requirements by 2020. The floating solar energy farm will also keep "future water bills low" as it will provide the water treatment works with about 33% of its energy.
Chris Stubbs, head of renewable energy at United Utilities, said: "We have a target to generate 35% of our power requirements by 2020 and this project will make a significant contribution to that aim.
"As part of United Utilities energy strategy to generate more power we identified the Godley reservoir as a suitable site to install a floating solar array to provide the water treatment works with approximately 33% of its energy requirements.
"While floating solar has been deployed elsewhere around the world, most notably in Japan, it is a new technology to the UK. Installations, such as the Godley solar scheme, will help us to keep energy costs and water customers' bills low."
The installation will dwarf the 800-panel pilot built last year in Berkshire.
United Utilities says that it plans on completing the installation by Christmas 2015.